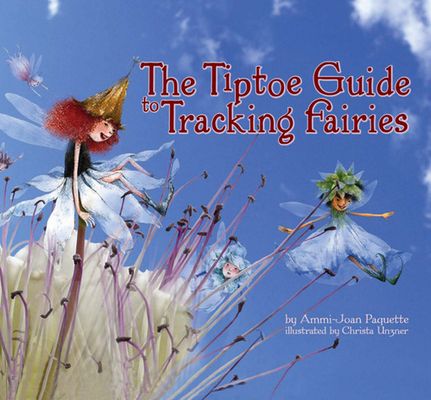 Title:
The Tiptoe Guide to Tracking Fairies
Author:
Ammi-Joan Paquette
Illustrator: Christa Unzner
Release Date: May 12, 2009
Publisher: Tanglewood Press
Pages: 32
Format: eBook
Source: Publisher via NetGalley
Links:
Goodreads
|
Amazon
|
Bookdepository
Read on March 19, 2012
My rating:

Summary

: Children learn to spot the tell-tale signs of fairies in residence in this delightful mix of photos and illustrations. Then children can take their tracking skills outside to discover the magic in their own backyard and celebrate nature. Full color.
A very cute book!
The Tiptoe Guide to Tracking Fairies
isn't a story book. It doesn't have main characters or any stories at all. It's just, as the title suggests, a "guide" to tracking fairies. So you shouldn't expect to read a story about a little girl trying to catch fairies or whatever.
However, this book is still very fun to look at! There are pictures on every page, and there's also some text. The text only acts like a guide which talks about places where fairies are found. What I really like is that there are usually two to four pictures of the same place. In that case, the first picture is always a real photo taken with a camera which shows children's fingers pointing to something like a rock or a pile or grass, and then the next pictures will be the that of the same place zoomed-in, in different angles, with colorful little fairies edited in.
I especially like the drawn fairies! The colorful illustrations are very well done and blend in perfectly with the real photographs. Details are extraordinary.
I guess this book tries to tell us that fairies or magical things are everywhere around us, we just have to "really look". ;) I really like it!
------------------------
This review is also posted on
Goodreads
.
I received an e-copy from NetGalley and Tanglewood for review.