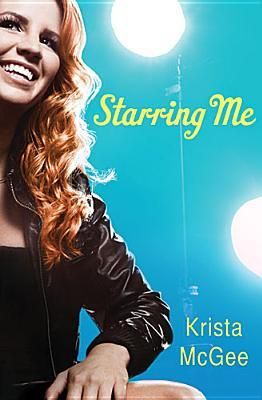 Title:
Starring Me
Author:
Krista McGee
Genre:
Teen / Young Adult
Releaste Date: July 10, 2012
Publisher: Thomas Nelson
Format: eBook
Pages: 320
Source: Publisher via NetGalley
Links:
Goodreads
|
Amazon
|
Bookdepository
Read from
June 28 - 30, 2012
My rating:

Summary: Kara McKormick is told she's auditioning to star in a new teen variety show. But it's what she isn't told that could change her life. The feisty New Yorker moves to sunny Orlando to participate in a month-long audition, where she'll live with nine other contestants and an eccentric housemother. Kara knows that the show already has a big-time celebrity lined up for the co-host, but she doesn't know who it is. Chad Beacon quickly rose to fame after winning America's Next Star, but he doesn't want his entire career to be about singing. There is so much more he wants to do—like act. The new variety show sounds like the perfect next step for him, but his parents want him to have a co-star who shares his faith since they'll be spending so much time together. Acting is high on Kara's priority list. But a relationship with God? Not so much. In fact, she's tried to stay away from anything religious. But God is after Kara's heart and He's put people in her life who are showing her there's far more to Christianity than rules and judgment. And just when it seems that Kara's going to have to give up her acting dream, God reveals that she may have a starring role after all—in a story so big only He could write it.
This book isn't really what I expected it to be. Of course, I wasn't expecting anything religious. My first impression was that this is a story of a girl who's chasing her dream. This kind of stories always gets me. It fascinates and inspires me to see people fight so hard to get to where they want to be and become who they are. I thought that was what this book would be about. But no, it's far from it, actually. I don't know why I didn't see it coming, seeing now that this book is in the "religious" category in my book catalog. Maybe I did know it and already forgot that I knew. All the more reason to be careful with choosing books from now on.
As I'm not a big fan of religion-based books, this one didn't leave that much of an impression. But don't get me wrong. It's not bad. The story is kind of fun, and it remains light throughout the whole book. Too light, in fact.
I have
to say that I find it
a little disappointing.
There isn't much conflict going on here, nor surprising twists and turns. There's also very little excitement. This is a very forgettable book for me.
I find the characters in this book so very incredibly flat, even the main characters. Kara, who's a sweet girl, good at heart, and an aspiring actress, remains that way till the end. And so does Chad, perfect boy. Eternally good.
The evil characters remain evil.
While I can see how a normal girl can be attracted to a pop star, Chad's attraction to Kara doesn't feel believable to me. It's accurate to say that I'm not very impressed with the characters.
The only thing that changes in this book is Kara's belief in God. She starts out as a non-believer, but people she hangs out with (Addy and Flora) are Christians, so they try to influence her. Is "brainwashing" too harsh? Maybe. But it really did feel that way for me. There's no reason for you to shove your belief in people's faces and try to convince them to share the same belief. It was irritating for me. Despite the brainwashing and God talk, Kara still remains skeptical for some time. She asks all the questions atheists ask, and that's good, because it seems believable. I was happy that she doesn't jump into it right away and convert, at least
not then
. But of course, something happens and then she changes her mind in an instant. I guess her change of faith is to be expected, since this is a christian book, but the manner in which it is done is so sudden and in no way believable.
To me, neither is this book inspirational nor interesting, but it's not bad either. It's a little fun, an overall okay read, and that's that.
------------------------
This review is also posted on Goodreads.
I received a digital copy from NetGalley and the publisher for review.