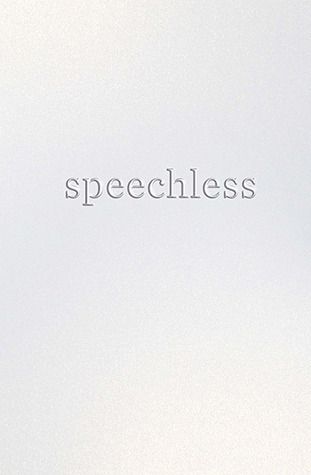 Title:
Speechless
Author:
Hannah Harrington
Genre:
Young Adult Contemporary
Release Date: August 28, 2012 by HarlequinTEEN
Pages: 288
Format: eBook
Source: Publisher via NetGalley
Links:
Goodreads
|
Amazon
|
Bookdepository
Read on August 12, 2012
My Rating:

(4.5)
Summary

: Everyone knows that Chelsea Knot can't keep a secret. Until now. Because the last secret she shared turned her into a social outcast—and nearly got someone killed. Now Chelsea has taken a vow of silence—to learn to keep her mouth shut, and to stop hurting anyone else. And if she thinks keeping secrets is hard, not speaking up when she's ignored, ridiculed and even attacked is worse. But there's strength in silence, and in the new friends who are, shockingly, coming her way—people she never noticed before; a boy she might even fall for. If only her new friends can forgive what she's done. If only she can forgive herself.
Hate is easy, but love takes courage.
Hannah Harrington did it again! I hereby worship her and declare my undying love for her, as she's now one of my favorite writers. Actually, she already became one when I read
Saving June
. I swear, whatever she writes, I'll read. I'm that loyal, and she's that good. And I'm sure her next works will still continue to blow my mind over and over and over and over again. I have no doubt about that at all.
I must admit that I was a little bit surprised to find that
Speechless
isn't what I thought it would be about. This is because I'd totally got the wrong idea by watching the
book trailer
released by Harlequin last month. I don't know if this is just me or the misunderstanding is universal (unlikely, though). From the video, I understood that Chelsea Knot (main character) walks in on Noah (whom I thought was her boyfriend) in bed with someone, and then she decides not to speak ever again. Well, that doesn't make much sense, does it? I mean, if that's what it is, then why wouldn't her saying sorry be enough? What does she have to apologize for anyway? She just catches them in bed! Hahaha. I was so clueless. And now, I'm so glad to find that the real story isn't like that!
So what is this book
really
about? Okay, first, meet Chelsea Knot. She's one of your typical popular girl sidekicks, equipped with sidekick attitude and personality and all. She's proud to be queen bee Kristen's best friend, and she has been for two years. Until one day she isn't anymore. That day at Kristen's party, she walks into a bedroom and finds Noah, one of her schoolmates, in bed with
a guy
. As a girl who can't keep a secret, she rushes downstairs and tell Kristen and her jock friends. Noah and his guy friend leave the party. It couldn't ended like that. But this is where things go wrong: her jock friends decide to chase after them to teach them a lesson, which is jock language for beating the shit out of them. And duh, that's what happens. They beat him up so terribly that he lies in coma in the hospital bed. Chelsea knows this too, and so she calls the cops, who later put her jock friends in jail. And then Chelsea is hated by everyone including her "friends."
She's called a lot of names such as "rat," "stupid whore," and "bitch," to which she replies "
Bitch? Really? Whoever is behind this is in dire need of a thesaurus. The level of creativity is tragic more than anything
." You gotta love her. But that's beside the point. The point is her so-called friends turn their backs on her, and this put her on the receiving end of all the things she's done while being Kristen's sidekick. It's terrible and ridiculous, now she realizes that. And she's sorry. Not for the social status it costs her, but for what she's done to land people in coma and in jail. Realizing running her mouth does more harm than good, she decides to "do the world a favor" by taking a vow of silence.
Speechless
totally blew me away. It tackles tough issues like bullying and LGBT rights and still can manage to be funny and very entertaining without being too heavy. I love how Chelsea, determined to be silent, makes an evident progress in sympathizing with other people and listening to them, which I don't think she would've learned, had none of this happened to her. It's like she opens up her mind more and becomes a better person. Her character development is impressive. Chelsea goes from the girl who follows Kristen around, not really having an opinion of her own, who lives to gossip, to a selfless version of herself who cares about others and stands firmly for something she believes in. Although many reviewers say that they find Chelsea difficult to like at first, it was the opposite with me. I liked her from the beginning, but not because I liked what she was doing. I liked her voice as it resonated in my head, giving me things to think. I liked how her character is very well portrayed and well-developed that it's hard not to think she's real and to feel like you already know her.
Other characters are great as well. I think this is one of the many outstanding talents of Hannah Harrington. She can create well-crafted characters that feel so real and so alive and so wonderful. I love Chelsea's two new awesome friends, Sam and Asha. They come into her life and make it all better. Asha is bubbly and sounds like a fun person to be around. And Sam, oh-my-god Sam, is so cute! I'm not even going to gush about him, because it would be really over-the-top. Noah and Andy, they're lovely. I love Noah for this:
"Hate is...it's too easy," he says. His face is calm, calmer than it has any right to be, his eyes not wavering from mine, like he's so completely sure of what he's saying. "Love. Love takes courage."
I'm sure this must've put tears in my eyes, even though I don't remember it. It's like, wow.
Forgiveness
. It's awesome. It's totally worth having your eyes brimmed with tears. As I earlier stated, Chelsea's voice totally impresses me. No, actually, Hannah Harrington's writing renders me speechless. (Haha!) This is one of the things I love Hannah Harrington for. Whenever her characters
talk to us
, I know it's my cue to grab my highlighters. Gosh, I can't begin to explain this. I'm a big fan of words and when words line up as beautifully as Hannah Harrington's do, I'm hypnotized. I'm seriously lost and I drown in them. It's her thing, I supposed. Whenever her characters tell us what they're thinking or how they're feeling, it's almost always something memorable that never fails to strike a chord with me. This also happened a lot of times with
Saving June
, her debut novel.
If I were to compare
Saving June
with
Speechless
, I'd say I loved
Saving June
more. Because it's true. I'd also say they are quite different from each other. In my opinion,
Saving June
is tinted with teenage angst and sadness of someone who's lost a loved one, which hits very close to home for me and therefore scores more points. While
Speechless
doesn't have that kind of sad vibe I love so much, it's still a great journey of a girl trying to find her own voice, a story about mistakes, forgiveness, bullying, and the right to love. I can't say which one is better but I can assure you that both books are brilliant.
With beautiful prose (as always), wonderful characters, cute romance and just enough humor,
Speechless
is guaranteed to take you on an awesome journey that will leave you... well, speechless! (Ha!)
------------------------
This review is also posted on Goodreads.
I received a digital copy from NetGalley and the publisher for review.
------------------------
Words of wisdom from Hannah Harrington in the Q&A section
:
"Words matter--how we use them and how we don't. Sometimes it is really difficult and even scary to speak up for what you believe is right, but it is important to do. At the end of the day you answer to yourself, no one else, so you'll be happy that you did."
My Saving June review
Book Trailer