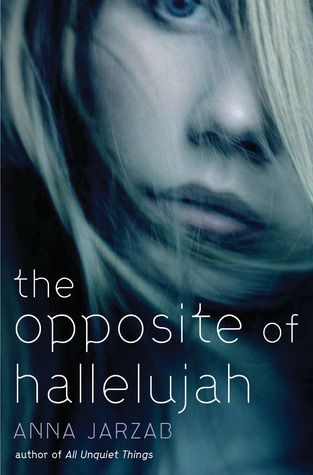 Title:
The Opposite of Hallelujah
Author:
Anna Jarzab
Genre:
Young Adult Contemporary
Release Date: October 9, 2012
Publisher: Delacourte
Format: eBook
Pages: 464
Source: Publisher via NetGalley
Links:
Goodreads
|
Amazon
|
Bookdepository
Read from October 9 to 12, 2012
My rating:

Summary

: Caro Mitchell considers herself an only child—and she likes it that way. After all, her much older sister, Hannah, left home eight years ago, and Caro barely remembers her. So when Caro's parents drop the bombshell news that Hannah is returning to live with them, Caro feels as if an interloper is crashing her family. To her, Hannah's a total stranger, someone who haunts their home with her meek and withdrawn presence, and who refuses to talk about her life and why she went away. Caro can't understand why her parents cut her sister so much slack, and why they're not pushing for answers. Unable to understand Hannah, Caro resorts to telling lies about her mysterious reappearance. But when those lies alienate Caro's new boyfriend and put her on the outs with her friends and her parents, she seeks solace from an unexpected source. And when she unearths a clue about Hannah's past—one that could save Hannah from the dark secret that possesses her—Caro begins to see her sister in a whole new light.
No, Caro, you don't understand. You don't even try to understand. You live in a world that revolves completely around you, and you never once, not even for a second, try to see what other people might be experiencing or feeling. You just never think about anyone else, and it's beneath you.
The Opposite of Hallelujah
is one of those books that take me pretty much by surprise. I'd go in expecting one thing and end up getting another. I don't usually handle long books well, but this one didn't feel long to me. I thoroughly enjoyed it and was constantly interested in the characters and the story. I found this book to be quite well written.
As I finished this book eleven days ago, I found it hard to try to recall what I wanted to say about it once I was done reading it. I don't remember much, so this review is going to be short and, hopefully, straight to the point.
This story is about a lot of things: sisterhood, friendship, family, religion, and coming to terms with the past—holding on to it and letting it go. And I enjoyed that a lot. I liked how the author put those things together and made it work. Watching Caro learn a lot of things and grow up in a lot of ways before my eyes was a good experience. I think the author did a very nice job portraying Caro as a stubborn brat who doesn't care much about anyone, and developing Caro's character gradually until she becomes an opposite of herself. I liked how she stands up for herself even when everyone else backs out of her life. She doesn't beg; she needs no one's help; and she's determined to figure things out on her own. Unraveling Hannah's past was also thrilling. Not only that, but also learning how that past affects her choices, making her become the person she is today. A lot of that has to do with her faith in Christianity. I usually don't like it when religion plays a big role in books, but this one doesn't seem preachy. It's not trying to make a point, but just giving food for thoughts, and that was good enough for me. More than the plot, I enjoyed the characters and their development throughout the story. The author's prose kept me going and captivated.
------------------------
This review is also posted on
Goodreads
.
I received a digital copy from NetGalley and the publisher for review.