Hi guys! Today B's Book Blog is honored to host a tour stop for the Reflection book tour! In this post you'll find my review, the author's bio and also a giveaway! Enjoy! :)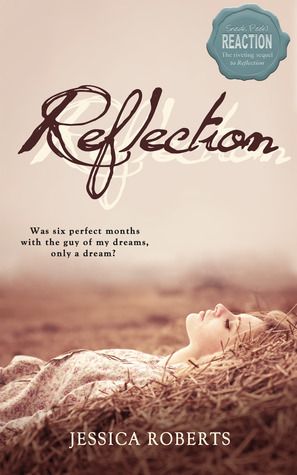 Title:
Reflection
Author:
Jessica Roberts
Genre:
New Adult, Young Adult Contemporary
Release Date: February 17, 2012
Format: eBook
Pages: 289
Source: YA Bound
Links:
Goodreads
|
Amazon
|
Barnes and Noble
Read from August 30 to September 2, 2012
My rating:

Summary

: Bright, spunky Heather Robbins has escaped her small hometown and is anxiously beginning her freshman year of college. Rising above her rocky childhood, she's found a place where good things are finally starting to happen: her own private apartment, refreshing college classes, and an intense attachment to a mysterious and rugged classmate, Nick Richards. But when her dreamy college life turns out to be nothing more than a wonderful dream while resting in a coma, questions threaten. Now, Heather must press forward to unlock the real past, and find the answers buried deep in her mind. What she unlocks instead is a roller coaster ride through flashbacks, embellished memories, and a whirlwind romance. And when it's all over and she comes face to face with the truth, will she lose everything she's fallen in love with?
"On occasion patients have dreams while in their coma. And you seem to be one of those special situations. These dreams can mix fantasy with reality, and memories of people and places sometimes jumble within these dreams."
In my opinon, Reflection is, in one word, different. It was a totally different reading experience for me. A good different too, I might add. I haven't had that many chances to read books involving coma--in fact I remember having read only one, If I Stay. So reading Reflection was kind of like trying something new.
I was unsure about it at first. I'm not a fan of confusing shifting perspectives, and this book has a lot of those. Most of the time I didn't know if I was reading it as it happens the first time, or reading it as Heather recounts her memories to the doctor. I didn't know this until like past halfway through the book, when I decided that it must still be the recounting. But confusing as it was for me, I coudn't stop.
It didn't take me long to finish this book, mostly because it was so addictive. I wanted to know more, needed to find out what's happened before and what will happen after. It was all very interesting and exciting to hear Heather talk about what she remembers about her first 6 months at college. Shitty friends, good friends, her crush, etc. There were some elements that seemed supernatural, but they turn out to be her coma messing with her memories.
In a PRS [Persistent Reflective State] coma the brain responds very differently than when it's in a typical coma. The first distinction has to do with memory.Unlike a common coma where the brain is stagnant, in PRS the brain works overtime, distinguished by overzealous brain activity [...] As it does so and the memories are called back to the surface, the mind begins to then live out those experiences, as if for the first time. To the mind, these prolonged dreams, 'reflections' as we call them, are current and real, as if living a life through the mind, but with experiences that have already occured in a person's life. As the mind sorts through memories and lives them out, sometimes it mixes people, places, and even adds imaginative experiences as it would in a typical dream, filling in parts that it cannot remember.
Not knowing what is real and what isn't kills Heather, and it killed me too. I was eager to see Heather out of the hospital and find out whether the romance with Nick was real. But there are shocks along the way. For Heather, the memories of those 6 months seem like just yesterday; but for everyone else, it has been 2 years and 7 months. Everyone has moved on without her. Everything has changed.
Reflection leaves me wanting more. Its ending is a good one, preparing us for the next book. I can't wait to read Reaction and see Heather fight to win back what she has lost. This is a very good read!
------------------------
JESSICA ROBERTS grew up in the San Francisco, California Bay Area where she spent most of her time playing sports alongside her six siblings. She was crowned Miss Teen California her senior year of high school, and went on to Brigham Young University where she graduated in Human Development. Her love of family, church, writing, athletics, and singing and dancing keeps her life busy and fulfilled. She currently resides in Utah with her husband and three children.
Blog | Twitter | Facebook
The giveaway is for (1) $25 Amazon gift card plus an e-copy of Reflections plus (9) additional Reflection e-books. Open Internationally.
a Rafflecopter giveaway
------------------------

This review is also posted on Goodreads.
I received a digital copy from NetGalley and the publisher for review.