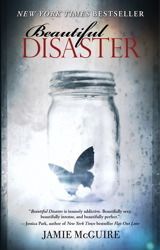 Title:
Beautiful Disaster
Author:
Jamie McGuire
Genre:
New Adult
,
Contemporary Romance
Release Date: August 14, 2012
Publisher: Atria Books
Pages: 432
Format: eBook
Source: Publisher via NetGalley
Links:
Goodreads
|
Amazon
|
Bookdepository
Read from August 9 - 10, 2012
My Rating:

Summary

: The new Abby Abernathy is a good girl. She doesn't drink or swear, and she has the appropriate number of cardigans in her wardrobe. Abby believes she has enough distance from the darkness of her past, but when she arrives at college with her best friend, her path to a new beginning is quickly challenged by Eastern University's Walking One-Night Stand. Travis Maddox, lean, cut, and covered in tattoos, is exactly what Abby needs—and wants—to avoid. He spends his nights winning money in a floating fight ring, and his days as the ultimate college campus charmer. Intrigued by Abby's resistance to his appeal, Travis tricks her into his daily life with a simple bet. If he loses, he must remain abstinent for a month. If Abby loses, she must live in Travis's apartment for the same amount of time. Either way, Travis has no idea that he has met his match.


There was only one reason I could ever feel that way with anyone. I belonged to him. It was then that I knew. Without a doubt in my mind, without worry of what others would think, and having no fear of mistakes or consequences, I smiled at the words I would say.
Who would've thought that I would like Beautiful Disaster as much as I do? I'd read a lot of negative reviews; but then I'd also noticed even more positive reviews. Curious, I started reading, expecting the worst, expecting to turn a page and start hating it, but it never happened. Actually, I ended up liking it -- which totally caught me off guard. I finished this in three sittings with sore butts and a slight backache. I literally couldn't stop reading. This has to be one of the most addictive books I've ever had a chance to read!
I blame it on my inner hopeless romantic. I am drawn to the ideas of love that is no good and can't work but can't be stopped. I don't even know where I got this from; it's like a chronic disease -- I can't seem to shake it. For some very strange reasons, I am in love with the idea of hopeless love, just as I am in love with heartbreaks. Though I'd hate to have to deal with this kind of love in real life, I love to read about them. And Beautiful Disaster offers me no less than that, and still a lot of fun.
It's easy to see why some readers do not like this novel. It has some of the elements that I don't like at all. To illustrate this, I hate clingy boyfriends. The kind that has been fine all their lives until they meet you and suddenly they need you to breathe. The kind that is overly jealous and will take down anyone that lays their eyes on you. The kind that goes crazy when they don't know your whereabouts and won't stop calling you until you talk to them. The kind that has your name tattooed on their skin. This is Travis, and this is insane. Normally behaviors like this would have turned me off immediately, but for some unknown reasons, I became even more engrossed in the book. I think this may be because in other books, such demeanor is simply annoying and off-putting, but in this book, it is scary like hell! It made my heart race, fearing for Abby if Travis happens to lose it, which happens quite often too. Poor minor characters who get beaten senseless. Travis's violence made me wince every time.
But I don't hate Travis. I don't know how exactly I feel about him, maybe just scared? And I definitely don't find him cute or attractive. I think he's an interesting human being who seriously needs anger management and needs to tone the over-protectiveness and jealousy down big-time. But I understand why he's like this, or at least I think I do. There's someone I know who had never been in a relationship before, and when he had his first girlfriend, he messed it all up by being -- just like Travis but without the violence -- clingy, jealous, and overprotective, because he really didn't know how to act. Could this be the case with Travis? Probably. He's never needed anyone before but when he needs Abby, it scares him, so he tries to keep her closer but it only pushes her away.
Abby, the narrator of the story, is a likeable person. I think she's smart. She knows better than to be involved with someone like Travis. Basically, he is the human form of everything she runs away from in the past to be at Eastern. But even so, despite trying to be his friend, she can't help but be attracted to him too. For whatever reasons. I found myself agreeing with a lot of things Abby says and a lot of her decisions. Travis is stupid, and he doesn't always know what he's doing, but that doesn't mean it's okay. I respect Abby for standing up for herself and leaving him when she has to. I didn't think she's being difficult, I thought she's being right. The best way out is always through, as they say.
Their on-and-off romance is more than interesting. It's many things together: heartbreaking, painful, scary, terrible, sweet, beautiful, and disastrous. I didn't always like it, but it's definitely entertaining to read. Travis is so hopelessly in love with Abby that he has his nickname for her (Pigeon, which I find a little stupid but it didn't bother me) tattooed on his wrist, which is a little extreme in my opinion, but he can be real sweet at times, too. And Abby, who's so determined not to fall for him, finds herself doing exactly that. Sometimes it seems like their relationship is doomed to fail, but the fact that it still keeps going because their love can't be stopped satisfied my inner romantic more than I can explain. It would send electricity through me (I'm not kidding. I really felt it.) and make my chest tighten, unable to breathe for a second. It was an awesome experience. Some of the words Abby says are spot-on, which I totally loved. For instance:
If I gave in, either he would change his mind about Benny, or he would resent me every time money could have made his life easier. I imagined him in a blue-collar job, coming home with the same look in his eyes that Mick had when he returned after a night of bad luck. It would be my fault that his life wasn't what he wanted it to be, and I couldn't let my future be plagued with the bitterness and regret that I left behind.
This broke my heart. It's so precise, and I could feel the bitterness dripping from these words already. She loves him against her better judgement, and she isn't afraid to make a decision she believes is right even if it's going to hurt them. Wow, Abby. I really like her. Even though this is not how the book ends, I think I would've liked it more if it had ended this way -- bittersweet.
Having said all that, I don't think there's anything much to add. I really enjoyed Jamie McGuire's writing. It's true that I wouldn't have liked many things in this book, but because it is well-written and beyond entertaining allowed me to overlook its imperfections. Expecting the worst, I surprised myself when I realized I liked this book a lot. I almost didn't pick it up as I hesitated, and now I'm glad that I read it. I recommend this for readers of contemporary romance. And maybe older audience, because it has sex and violence in it. I'm looking forward to reading book two,
Walking Disaster
, which isn't a sequel but only
Beautiful Disaster
told in Travis's point of view. It should be interesting.
------------------------
This review is also posted on Goodreads.
I received a digital copy from NetGalley and the publisher for review.