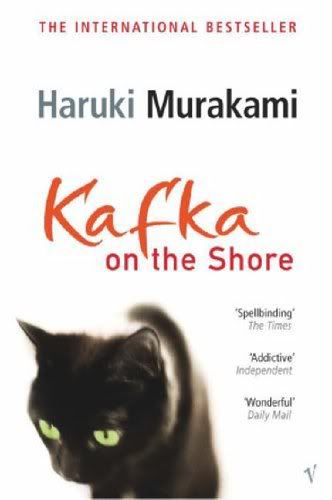 Title:
Kafka on the Shore
Author:
Haruki Murakami
Genre: Japanese Literature
Translator: Philip Gabriel
Release Date: October 31, 2005
Publisher: Vintage
Format: Paperback
Pages: 615
Read from
October 19 to 25, 2011
My rating:

Summary: Kafka on the Shore, a tour de force of metaphysical reality, is powered by two remarkable characters: a teenage boy, Kafka Tamura, who runs away from home either to escape a gruesome oedipal prophecy or to search for his long-missing mother and sister; and an aging simpleton called Nakata, who never recovered from a wartime affliction and now is drawn toward Kafka for reasons that, like the most basic activities of daily life, he cannot fathom. Their odyssey, as mysterious to them as it is to us, is enriched throughout by vivid accomplices and mesmerizing events. Cats and people carry on conversations, a ghostlike pimp employs a Hegel-quoting prostitute, a forest harbors soldiers apparently unaged since World War II, and rainstorms of fish (and worse) fall from the sky. There is a brutal murder, with the identity of both victim and perpetrator a riddle - yet this, along with everything else, is eventually answered, just as the entwined destinies of Kafka and Nakata are gradually revealed, with one escaping his fate entirely and the other given a fresh start on his own.
[Review written on October 25th, 2011]
Wow. I just finished this about 7 minutes ago and that is around 1.45 am in the morning. This book is, as the cover advertises, "addictive". I never thought I would say that. Before this I have read Norwegian Wood by Marakami, and hated it. It made me so angry that I had to sit and scream, because I found it that bad. I remember thinking that I would never ever lay my hands on any Murakami books again, having read Norwegian Wood as my first. However, I didn't stick to that. A really good friend of mine who's a huge Murakami fan often tries to make me get over my prejudice by lending me this book. Now what I've got to do is wait till morning to call him and congratulate him on his successful attempt at that.

The book is interesting since the very first sentence. No lie. It's just as seriously addictive as it is long. Despite the length, I believe I would've finished it in 2 or 3 days if it weren't for the news that Westlife would be splitting up in 2012 that made me literally depressed for a few days and unable to do anything other than watching Westlife videos and listening to their songs and crying.
Anyway.
I'd be lying if I said I understood this book. I don't, for the most parts. I think the book is weird. But in a good way. I'm not even going to attempt to summarize it, because I don't think I can. It just isn't that simple. All I can say is that it's brilliant, and thought-provoking. And most of all, unlike anything I've read before. This is the first magical realism book I've read.
Although I've finished reading the book, I don't think I'm done with it yet. There are still things that I don't thoroughly understand. I mean, I do understand them in my own interpretations, of course. But I do not know if I got it right, so I'm gonna be off reading discussions about this book now.
[Update on November 21st, 2011]
Almost a month has gone by since I've read this book, but my feelings for it remain the same. I still do believe that Kafka on the Shore is great.
Since the earlier review, I've been hunting explanations and others' interpretations and I have to be honest with you and say that my understanding for it doesn't differ much, even then or now. It's just one of the books that leave a lot of questions unanswered and don't need to be thoroughly analysed and understood, but enjoyed and appreciated. That's the way it is with most Murakami books.


------------------------
This review is also posted on
Goodreads
.