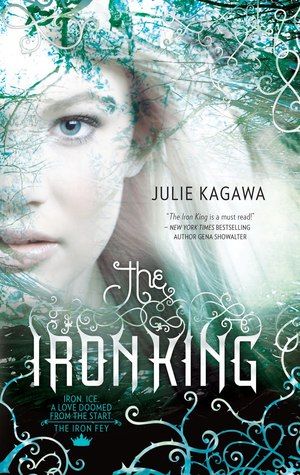 Title:
The Iron King
Author:
Julie Kagawa
Series: The Iron Fey #1
Genre:
Young Adult Fantasy
Release Date: February 1, 2010
Publisher: HarlequinTEEN
Format: Paperback
Pages: 363
Links:
Goodreads
|
Amazon
|
Bookdepository
Read from 19 to 21 October, 2012
My rating:

Summary

: Meghan Chase has a secret destiny; one she could never have imagined. Something has always felt slightly off in Meghan's life, ever since her father disappeared before her eyes when she was six. She has never quite fit in at school or at home. When a dark stranger begins watching her from afar, and her prankster best friend becomes strangely protective of her, Meghan senses that everything she's known is about to change. But she could never have guessed the truth - that she is the daughter of a mythical faery king and is a pawn in a deadly war. Now Meghan will learn just how far she'll go to save someone she cares about, to stop a mysterious evil no faery creature dare face; and to find love with a young prince who might rather see her dead than let her touch his icy heart.
You would do anything to find your brother—put yourself in danger, bargain with the enemy, give up your own freedom—if it means saving him. You'd likely do the same for your friends, or anyone else you care about. Your personal loyalty is your breaking point, and your enemies will certainly use it against you. That is your weakness, princess. That is the most dangerous aspect in your life.
I picked up
The Iron King
because I was given an ARC of Julie Kagawa's
The Lost Prince
, which is a new series within the Iron Fey series. Not that I would've never done so if I hadn't got
The Lost Prince
. Actually, I had wanted to read this series for a long time, but never got around to it. I'm glad that I finally did now, because the first book is so good already!
For some unexplainable reasons, I've been unable to greatly enjoy books lately. I'm not sure if it's because of me or the books. Anyhow, I was a little afraid that if it's the former, reading this at this time might not be a good idea. But it wasn't the case at all. As it turned out, I enjoyed this a lot more than the books I recently read. Although I don't usually read fairy books, I think I'm in love with fairies now, thanks to
The Iron Fey
series. I plan to read a lot more fairy books from now on.
Where do I begin? I just adore almost everything in this book. Meghan Chase, 16-year-old, is an outcast at school and has one best friend: Robbie Goodfell, who always calls her "princess." But of course, she doesn't know that he means it
literally
, as she is, in fact, the Princess of King Oberon, King of the Summer Court in the Nevernever. Meghan doesn't discover this until one day her good little brother Ethan is kidnapped by fairies and is replaced with a changeling that wrecks the house. Learning about fairies and that Robbie is actually the playful fairy Puck in Shakespeare's
Midsummer Night's Dream
, Meghan decides to enter the Nevernever to try to bring Ethan back home with Puck's help. But once she sets foot in the fairy land, more troubles come her way.
To say that the story kept me on the edge of my seat all the time would be quite an understatement. I couldn't do anything else. I had to read. I had to know. It's exciting and refreshing and thrilling and enchanting. I love the Nevernever world building where everything looks beautiful and magical, where creatures jump out at you and try to eat you, where cats talk, where things are vivid and alive. I love how the story gives me one thing (Ethan's abduction) which leads to another (trying to find Ethan in the Winter territory) which leads to another (Ash) which eventually leads to the Iron realm. There's always something hidden waiting to come up, and I love that it's not predictable, not clearly stated in the first place. The adventure is more than fun, and I thoroughly enjoyed Meghan's journey.
The characters are the life of this book, I believe. They're very well crafted, and I love them. Meghan is a likeable character. She cares a lot about her family and she puts them first. A lot of times she makes difficult choices in their favor, putting herself at risk. I like that. Robbie/Puck got me since he first appears in the book. He's that playful, humorous, ever-smiling person you want to have as your best friend. I love when he's trolling just as much as when he's dead serious and heartfelt. Prince Ash, Puck's competitor in the fight to win Meghan's heart, didn't make me like him instantly like Puck did. He's cold, distant, and I'd say intimidating. But along the road, Ash grew on me to the point where I love them both equally and cannot pick one, therefore I resort to siding with whoever is in the scene or is speaking. They both made my heart flutter and my stomach flip, I become that giggly girl I used to be when I was 14 again. Fun times. I'm sorry Grimalkin, even though you warn Meghan (and me) to not fall in love with Ash ("Do not lose your heart to a faery prince. It never ends well."), I did anyway. And I also love you, Grimalkin, for your indifferent attitude, your tendency to appear and disappear at will, and your belief that "I am a cat" is a correct answer to any questions. You are adorable.
Good writing is hard to come by these days. If you ask me about the writing, I'd say it's SO GOOD. There was never a moment when I felt like the narration weakened the story, or annoyed me, or could have been better. To put it another way, the writing reinforces the story very well. I love the way the author describes the abstract, especially feelings—she made it look like the easiest thing to explain, and it's so to the point and beautiful. The words flow smoothly and the use of figurative language in the book impresses me a lot. So, kudos to that and all the elements that make up this book! It's a wonderful read!
PS. There are a few things that I didn't like about this book, and so I didn't give it 5 stars. I'm not going to delve into it, because these are quite minor. But one big thing is that the fight near the end doesn't feel grand enough for me. It hardly stirred any emotions in me I wanted to feel at all. The scene which is supposed to be a climax feels too much like an ordinary scene when it should be grand, and amazing, and heart-stopping. But this problem aside, this book is a delight to read.
------------------------
This review is also posted on
Goodreads
.