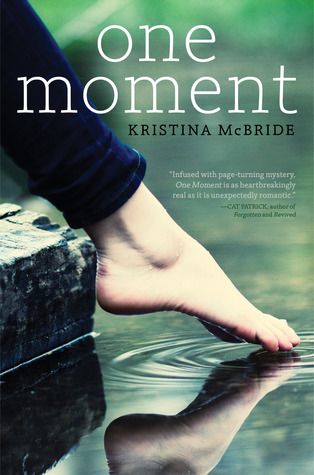 Title:
One Moment
Author:
Kristina McBride
Genre:
Young Adult Contemporary
Release Date: June 26, 2012
Publisher: Egmont USA
Pages: 272
Format: eBook
Source: Publisher via NetGalley
Links:
Goodreads
|
Amazon
|
Bookdepository
Read from
June 18 - 21, 2012
My rating:

Summary: This was supposed to be the best summer of Maggie's life. Now it's the one she'd do anything to forget. Maggie remembers hanging out at the gorge with her closest friends after a blowout party. She remembers climbing the trail with her perfect boyfriend, Joey. She remembers that last kiss, soft, lingering, and meant to reassure her. So why can't she remember what happened in the moment before they were supposed to dive? Why was she left cowering at the top of the cliff, while Joey floated in the water below-dead? As Maggie's memories return in snatches, nothing seems to make sense. Why was Joey acting so strangely at the party? Where did he go after taking her home? And if Joey was keeping these secrets, what else was he hiding?
All it takes is one moment for your entire world to turn upside down.
The very first moment I finished Kristina McBride's
One Moment
, I decided to hold off writing a review for a while. It was overwhelming and it definitely was too much for me to handle. I didn't intend to wait this long, but due to the circumstances, I have to post less regularly. But every day that I waited to write this review, this book has crossed my mind, screaming, "Review me already!" which doesn't happen often. Mostly if I hold off for this long, I'll just forget about it and move on. This book is kind of haunting in a way, but other than that, it's pretty amazing.
There are lots of things I really liked and loved about
One Moment
. For one thing, it's the idea that one moment can change everything. It's fascinating. For me, it's hard to recall which moment in my life that really made a difference. I have tried a lot of times before to think about it, because it's my obsession, but I can't recall the instant in which my life took a different turn. I don't know if that's a good thing or a bad thing. If I knew, then maybe I'd have regrets, so maybe it's better off this way. And when I saw what this book is about, I knew I had to read this. For Maggie, that moment is so easy to identify. Even if she can't remember anything as an aftershock,
the moment
is always on her mind, and when she does remember it, it devastates her.
There's no doubt at all that this book is very well written. This book has three of my favorite things that I love in book: death and heartbreak and emotional devastation. The story line is amazing and it flows smoothly. I think everything is done exactly the way it's supposed to be done. The opening scene wastes no time and jumps right into the plot. I love this. The mystery in this book really kept me on the edge of my seat!
What happened? How? Why?
It was almost too much to handle! The little bits of what happens on the cliff, the moment that changes everything, slowly come back to Maggie in fragments, then these fragments form together a whole memory. And then one memory leads to another and then she discovers an ugly truth that's been staring her in the face for so long but she hasn't thought much about. I can understand why she hasn't, and I didn't scream "Stupid!" at her like other heroines in the same truth-discovery situation. It's as real and believable as fiction can be. The mysteries and the surprises in this book are totally awesome, and the heartbreaking moments are just as precious.
I couldn't help but love the characters. They're all natural characters. The friendship in their circle of friends is so real, and I can imagine why it never crosses Maggie's mind that two of them will ever stab her in the back. Maggie is strong despite the grief she's feeling, the betrayal, and the heartbreak. I really loved her. I loved the way she copes with things: she
learns
to cope. It's not easy, but she can do it. She goes all the way to find out the whole truth, gets her heart broken and shattered badly, and she
recovers
. She lets go. She says goodbye. This is one of the most touching moments in the book. You have to learn to let go at some point. And Joey. Gosh, Joey. Who'd have thought? I can't say I didn't see it coming, because I did, but I didn't think it would go
that
far, that he's capable of that much evil. But the hint that he might be giving it all up, but dies before he can do so, was totally killing me. If Joey could go back in time and do it all over again, would he change anything? Does he ever regret it? Shannon, despite all the things she's done wrong, has her own reasons too. Can we really blame her?
These questions and the fact that Joey isn't here to answer them killed me as painfully as they did Maggie.
I loved Adam for being everything that Joey isn't, who loves his friends enough not to say anything, who stands on the sideline watching and helping whenever help is needed, for being so sweet. Not to mention he carries my most favorite male name of all time.
In the end, I can't recall what I didn't like about this book. I love, love, love it. I really enjoyed Kristina McBride's style of writing. This is the first book of hers I've ever read
(and already a new favorite!),
and I'm sure it won't be last. If you're looking for a combination of a good book, a good time and a good cry, know that this book is patiently waiting for you.
------------------------
This review is also posted on Goodreads.
I received a digital copy from NetGalley and the publisher for review.