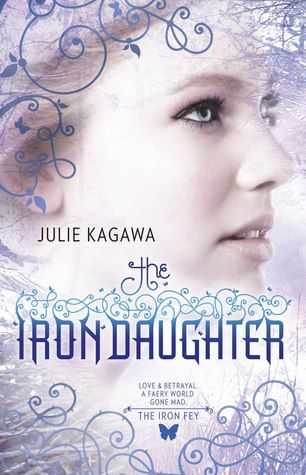 Title:
The Iron Daughter
Author:
Julie Kagawa
Series: The Iron Fey #2
Genre:
Young Adult Fantasy
Release Date: August 1, 2010
Publisher: HarlequinTEEN
Format: Paperback
Pages: 359
Links:
Goodreads
|
Amazon
|
Bookdepository
Read from 21 to 25 October, 2012
My rating:

Summary

: Half Summer faery princess, half human, Meghan has never fit in anywhere. Deserted by the Winter prince she thought loved her, she is prisoner to the Winter faery queen. As war looms between Summer and Winter, Meghan knows that the real danger comes from the Iron fey—ironbound faeries that only she and her absent prince have seen. But no one believes her. Worse, Meghan's own fey powers have been cut off. She's stuck in Faery with only her wits for help. Trusting anyone would be foolish. Trusting a seeming traitor could be deadly. But even as she grows a backbone of iron, Meghan can't help but hear the whispers of longing in her all-too-human heart.
Because if I was going to play in the Unseelie Court, I had to be made of ice. No, not ice. Like iron.
In
The Iron King
Ash kept his word to help Meghan on her quest to the Iron realm, and now Ash expects Meghan to fulfill her end of the bargain by going back with him to the Winter Court. Meghan gladly goes with him to the place where being a Summer fey is something to get you in trouble. And on top of that, she's Oberon's half-breed. All the more troubles come her way. Ash has to act cold and distant, and it's killing Meghan to think that after all they've been through, Ash is just going to walk away, saying none of that was real, that everything was just his way of making her come here. Just when Meghan thinks that she's defeated the Iron King Machina, and that there is no more threat to the Nevernever, the Winter Court is attacked from within by the new Iron King's soldiers. Blamed for the death of the oldest Winter Prince and for stealing the Scepter of the Seasons, Meghan has to prove herself and the Summer Court innocent by getting the Scepter back before Winter starts war with Summer, which can bring the end of the Nevernever, and the start of the Iron realm's ruling power.
At first I felt a little underwhelmed by
The Iron Daughter
because there was so much running around but nothing accomplished. I'm not saying that it was too slow, but the story just felt all over the place with no clear direction to me. I also felt that the novel was too focused on the love triangle. It is without a question heart-rending, as I can't really pick one myself (as I said in my
Iron King review
, I keep changing sides) but I wanted more than that. I was prepared to give this book 3 stars when there still wasn't much going on, but when the plot came together nicely I changed my mind. When actions started it was pretty much heart-stopping, and much much better than the earlier parts. I felt terribly sad and cried at the losses that come to pass, and the choices the characters have to make. Feelings are made very clear in this book and it tears my heart open. Sacrifices always get me, and those present in this book ate at my heart.
There are lot of things I liked in this book. I liked how the clues dropped in the first book played out in this one, but not to the full extent. I feel there's still a lot coming to be revealed and unraveled, something grand waiting to jump out at us once the puzzle pieces fall together. And I can't wait for that to happen. I want it to be epic. My love for the characters grew as I got to know them better, especially Ironhorse. I've grown to love his BOOMING VOICE and his loyalty. Ash is as usual a heartthrob. And Puck is just hilarious and adorable. Grimalkin is, well, Grimalkin. But sometimes I didn't like Meghan. She only stands there and is protected and isn't really doing anything on her own. But I also understand that this character is still being built up in the progress, not yet completed. I can't wait to see her when she's her true self. I didn't like that strange things happen but no one asks questions. They just accept it, but why? I would question a lot of things, were I those blind characters. This is one of the things I felt isn't very neatly done. You don't answer questions just to show the answers in an epic way later, but it still doesn't change the fact that you
refuse
to acknowledge issues that need to be addressed when they come up by ignoring them altogether (and probably wishing we don't catch that). Another thing is that the book says Meghan's power got sealed, and it must take Oberon or Mab to undo it. But then near the end, Meghan uses her power openly, so here's the question: When does it become undone? I don't think it ever does. Tsk tsk.
When I finished this book, my heart was racing. What an ending! My heart ached for Puck. I could feel danger looming ahead. This was almost amazing, but it wasn't there yet, sadly. I actually liked the first book better. With all these questions hanging in the air and clues that still need to be played out, I hope the third book is better!
--------------------------------
This review is also posted on
Goodreads
.