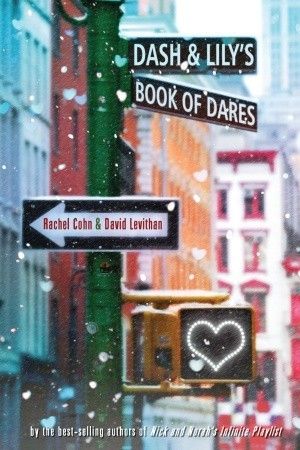 Title:
Dash & Lily's Book of Dares
Author:
Rachel Cohn and David Levithan
Genre:
Young Adult Contemporary
Release Date: October 11, 2011
Publisher: Ember
Format: Paperback
Pages: 260
Links:
Goodreads
|
Amazon
|
Bookdepository
Read from October 6 to 7, 2012
My rating:

Summary

: "I've left some clues for you.If you want them, turn the page. If you don't, put the book back on the shelf, please." So begins the latest whirlwind romance from the New York Times bestselling authors of Nick & Norah's Infinite Playlist. Lily has left a red notebook full of challenges on a favorite bookstore shelf, waiting for just the right guy to come along and accept its dares. But is Dash that right guy? Or are Dash and Lily only destined to trade dares, dreams, and desires in the notebook they pass back and forth at locations across New York? Could their in-person selves possibly connect as well as their notebook versions? Or will they be a comic mismatch of disastrous proportions? Rachel Cohn and David Levithan have written a love story that will have readers perusing bookstore shelves, looking and longing for a love (and a red notebook) of their own.
I was perusing a particular favorite when I saw a peek of red. It was a red Moleskine...
And so begins something beautiful between Dash and Lily. I seriously can't get over how good this book is. I didn't realize that this is a Christmas read, so yesterday when I felt like reading it, I just did. We don't celebrate Christmas here anyway, so it would be a little silly to wait two months to read this. I'm totally glad I picked it up because I didn't like the last five books I've read that much and I started feeling tired of reading after all those dull books. To put it another way,
Dash & Lily's Book of Dares
helped me take my mind of things and start afresh, with humor and cuteness and fun. I finished this book more than satisfied.
As I'd read one David Levithan book before, I'd expected nothing short of magnificent writing in this, and he did not let me down at all. Man, can he write! But since I'd never experienced Rachel Cohn's books before, I wasn't sure if I would like it. I wasn't sure what this would be about and what to expect from it. The blurb sounds simple enough: boy meets girl. There didn't seem to be much sophistication or complexity, so I thought this might be just another time-killer that wouldn't be worth thinking about afterwards. But I was wrong. Its simply story of ten days in New York was more fun than all my last five books combined together.
The story begins on December 21, just a few days before Christmas. Dash visits the Strand, known for its 18 miles of books, to look for J.D. Salinger's old editions. And then he sees a red Moleskine sitting on the shelf. Inside there are instructions that will set him running around in the bookstore looking for clues. The red notebook belongs to Lily, but really it's her brother's idea to get her to meet someone. And little do they both know that it will lead them to do crazy stuff like sit on Santa's lap or watch
Gramma Got Run Over by a Reindeer
, meet interesting people like wax celebrities, and go hunt for clues in the most unlikely places like
behind mama's behinds
and the wall of a restroom stall. It's an adventure that opens up doors for possibilities, and I'm not just talking about landing in jail or getting locked up in a bookstore's basement here. Oops.
Both Dash and Lily are very likeable characters. I love that Dash's chapters are written only by David Levithan, and Lily's by Rachel Cohn. The result is that they have clear voices of their own that are consistent throughout the story. I especially adore Dash; I love him instantly. Dash–a connector of words. Haha. He sounds just like the author who wrote him, and I already liked him a lot to begin with. Dash's sarcasm and humor and his vocabulary kept me entertained, and I found myself laughing out loud with more frequency than I have laughed to any particular book before. I don't know if he's genuinely funny to everyone or just me. His fondness of bookstores and Oxford English Dictionaries (20 volumes!) made me sure we could be great friends. Lily is just as adorable and funny (but in a different way). I love that Lily is very close to her extended family relatives. Like really, really close. Close enough to involve all of them in this journey of the red notebook. It's very heartwarming to read about. Lily's innocence and her alter ego known as Shrilly, as well as her emotional attachment to her dead pet gerbil (and the grudge she holds against the murderer even if they've all grown up) make her endearing to me. I wish Lily exists in real life so I can watch goalie Lily save babies like she saves goals. It will be hilarious.
I haven't felt this good in a while, and I thank
Dash & Lily's Book of Dares
for being more than I'd expected, and for making me laugh and smile when I really needed it. The characters are well-crafted. I love all of Dash's friends and Lily's relatives. The beautiful writing is refreshing, and the simple plot is brilliant. A super wonderful read!
------------------------
This review is also posted on
Goodreads
.