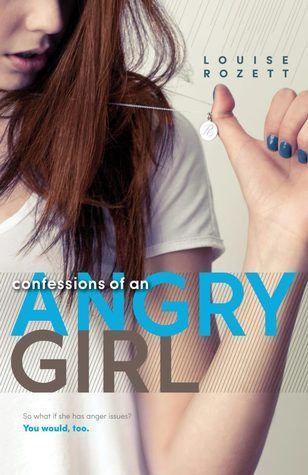 Title:
Confessions of an Angry Girl
Author:
Louise Rozett
Series: Confessions #1
Genre:
Teen, Young Adult Contemporary
Release Date: August 28, 2012
Publisher: HarlequinTeen
Pages: 272
Source: Publisher via NetGalley
Links:
Goodreads
|
Amazon
|
Bookdepository
Read from August 14 to 17, 2012
My Rating:

Summary

: Freshman Rose Zarelli has rage issues. First of all, her father lost his job, took work as a contractor in Iraq...and never came home. Second, she likes the wrong guy and his super-intense, scary cheerleader girlfriend is now her nemesis. Third, her fashionista best friend, Tracy, is suddenly infinitely cooler than she is—and talking about losing her virginity. (What?!) Rose is ahead when it comes to studying for the PSAT, but she's so far behind socially that she might as well be moving backward. She needs Tracy's help choosing the right clothes, she likes all the wrong extracurricular activities, and she can't even make a decision about which photo of her father to put on the memorial website she's making (and hiding from her adolescent-shrink mother). With her brother away at college and her mother always locked in her office with her messed-up teen patients, Rose struggles to get through each day without inflicting bodily harm on anyone.
This is a story about a girl with a stellar vocabulary who is four years away from college and a year and a half away from a driver's license. About a girl trapped in a hostile universe where the virginity clock is ticking down--relentlessly--with zero consideration for her extenuating traumatic, lifealtering circumstances.
Let me start off by saying that this book is not for me. From the start, I knew that I wasn't going to like it much. Throughout the book, the story failed again and again to interest me. It's just incredibly boring This is one of those books that I won't want to pick up again once I lay it down.
Which is, to be honest, quite unexpected. I know Rose has lost her father in the war in Iraq. And I tend to love books whose main character's father is dead, which I can totally relate to. But most of the time I was annoyed by Rose. Her character isn't all that believable to me. She is supposed to be angry as described in the blurb. But no, she feels pretty normal to me. Just any other normal teenager who's pessimistic and sarcastic and annoying. Rage issues? Please, what an overstatement. It's just a way to make Rose sound more interesting, I guess, but it's so deceiving. She does have angry outbursts but only no more than 3 times, and they are nowhere near rage issues. She claims to be very smart, but I really couldn't see how.
The other characters in the book are also just as, if not more, annoying. There are your typical mean girl named Regina (but is nowhere near epic as Mean Girls' Regina George), the best friend who can only talk about "doing it" without protection with her boyfriend, and the crush--oh, the unattainable crush who's with someone else but plays with Rose's heart anyway and then quits by saying he's not for her. Hmm. I'm not sure which one of them I want to punch first.
Frankly, I feel like this book is maybe for the teen age group. It really didn't do it for me. There are a lot of things that I really don't like in the book that feel immature and childish. Girl drama, crush drama, best friend drama. None of that really interests me. And in the end, I could say that the plot really goes nowhere. No character development, that's for sure. I couldn't feel the climax, if there is one. The story just goes on and on, and then abruptly stops. Seriously. I emphasize, abruptly. And then? Oh, there'll be book two! Haha, well, too bad I'm not impressed enough to want to stick around when it comes out. This is a very forgettable read for me.
------------------------
This review is also posted on Goodreads.
I received a digital copy from NetGalley and the publisher for review.