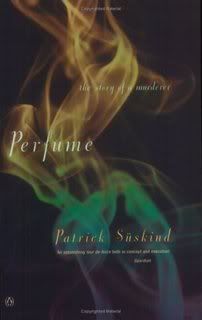 Title:
Perfume
Author:
Patrick Süskind
Genre:
Historical Fiction, Horror, Classics
First published: 1985
This edition: 2001
Publisher: Knopf Publishing Group
Format: Paperback
Pages: 272
Links:
Goodreads
|
Amazon
|
Bookdepository
Read from November 9 to 15, 2011
My rating:

Summary: In the slums of eighteenth-century France, the infant Jean-Baptiste Grenouille is born with one sublime gift - an absolute sense of smell. As a boy, he lives to decipher the odors of Paris, and apprentices himself to a prominent perfumer who teaches him the ancient art of mixing precious oils and herbs. But Grenouille's genius is such that he is not satisfied to stop there, and he becomes obsessed with capturing the smells of objects such as brass doorknobs and frest-cut wood. Then one day he catches a hint of a scent that will drive him on an ever-more-terrifying quest to create the "ultimate perfume" - the scent of a beautiful young virgin.
Everyone seems to like or love this book, but even to my surprise, I feel kind of underwhelmed. The story is without a doubt extraordinary and unusual, based on the idea that the sense of smell is superior to all others, as your other sensory perceptions can be turned off (shutting eyes, covering ears, etc.) except for smelling, so long as you want to live. However interesting it sounds, I often found myself not engaged with what was going on as I read at all. At some points I would look up from the book and feel so blank--I couldn't recall where the story had taken me and how it was going--that I had to flip back, sometimes a few pages, sometimes a lot of pages, to start again. I wasn't as absorbed in it as I had wanted to be. I came to conclude that it was because of the writing.
I had mixed feelings about the writing and the narrative. Sometimes, like I said, it seemed to push me away from grasping what it was telling me. I had to reread sentences or paragraphs a lot of times that it wore me out. However, there were times when it flowed so smoothly and rapidly that I actually enjoyed it. And I also noticed that what seemed like the first 73.07692% of the book was what I felt uneasy with, while the rest after it was somewhat livelier and more exciting. Or maybe all this is just me. Maybe it's just my reading deficiency. In addition, I felt like the narration could have been better and more detailed. When the killing spree part comes, it looks as if the author didn't care about it that much to give more details. I didn't like that. It was like writing one sentence to let the readers know that between this line and the line above, 23 murders had been committed and done. Like that. No more details. Also, kudos to the author's description of smell/scent/odor. I think it's great.
I have only a couple of thing to say about the storyline. Firstly, I think the author focused too much on the first stages of Grenouille's life. A lot of times I wondered why he has killed only one girl when it was almost 200 pages on already. I expected The Story of A Murderer to focus more on acts of murders, rather than what the murderer did in a perfume shop or in a cave. And I don't really like how Grenouille killed one girl in Paris once, paused--lived in a cave for SEVEN years, then started a killing spree, after all those years, which was described within JUST a few pages I think that it's unforgivably unbalanced. I felt the story goes all too slowly, and when the climax of the book comes, it's almost the end of the book itself, and that passes by all to quickly. Secondly, why did some people who gave him shelter have to die after Grenouille left them? What's with that? First, his cruel employee whose name I don't remember. Then Baldini the perfumer. Why? I mean, they didn't have any more significance in the story, why not just leave them alone? Why further going into details their deaths? Perhaps to portray that without him their lives couldn't go on? Hmm... This is quite unnecessary, why not focus on something that would enrich the story instead?
The main character, Jean-Baptiste Grenouille, with one crippled foot and tough personality, is an odorless person. I like how the obsession with scent has its motive from his own shortcoming. He wants to create an odor for himself. When reading about his unfortunate birth and tough childhood, I felt sympathy for him. Even when he's grown up and sinister, I still felt it. I think the author meant for it to be like that, to make the character seem real, to make readers sympathize with him, but dislike him all at the same time. Or at least that's how it was for me. His high ambitions and genius make him a murderer, yet he didn't seem to care much about that. He definitely took obsession to the next level.
This book is definitely fine literature, no doubt about that. But I have to say it didn't quite do it for me. It didn't blow me away, no matter how much I wanted it to. Perfume could, dare I say it, have been better. There.


------------------------
This review is also posted on
Goodreads
.