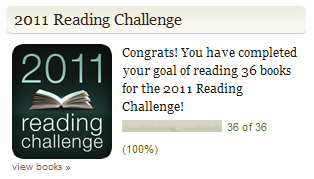 Let's celebrate!!!!!!!!!!!!!!!!!!!!!!! :D Last night around 15 minutes before midnight, I completed my 2011 Reading Challenge!!! I know it's not much, but it's something. Those who know me know how obsessed I am with goals and lists. It makes me feel accomplished.
Tight-scheduled as I am, I was hoping I could read at least 3 books a month — thus the goal was to read 36 books. But the goal's finished early (November 9th)! And that makes me feel extremely satisfied. :D

The statistic above indicates that I've read a total amount of 11,098 pages of those 36 books! It also tells you that I've read far more pleasant books than crappy ones. I'm feeling so overwhelmed now.
Here are the books (arranged by most recent):
Although the goal's completed, I'll keep on reading just the same. :-)
Currently reading: