Hi guys! Today, May 22,
B's Book Blog
is happy to host a stop for Jolene B. Perry's
Night Sky
blog tour!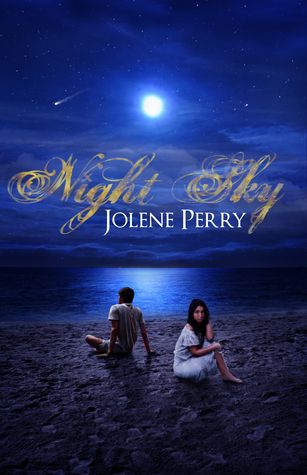 Title:
Night Sky
Author:
Jolene B. Perry
Genre:
Young Adult Contemporary
Release date: March 1, 2012
Publisher: Tribute Books
Format: eBook
Pages: 247
Source: Tribute Books
Links:
Website
|
Goodreads
|
Amazon (Paperback)
|
Amazon (Kindle)
Read from
May 19 - 21, 2012
My rating:

Summary

: After losing Sarah, the friend he's loved, to some other guy, Jameson meets Sky. Her Native American roots, fluid movements, and need for brutal honesty become addictive fast. This is good. Jameson needs distraction – his dad leaves for another woman, his mom's walking around like a zombie, and Sarah's new boyfriend can't keep his hands off of her. As he spends time with Sky and learns about her village, her totems, and her friends with drums - she's way more than distraction. Jameson's falling for her fast. But Sky's need for honesty somehow doesn't extend to her life story – and Jameson just may need more than his new girl to keep him distracted from the disaster of his senior year.
Girl I've loved, girl I'm falling for. Now that they're both in view, the problem is clear.


This is the second book written by Jolene B. Perry that I've read. Night Sky is an addictive read, which explains why I was hooked since the very first sentence all the way until the end of the book. I enjoyed it very much.
Night Sky is told by a male narrator, Jameson. Jameson has a best friend named Sarah, but she doesn't know that he's been in love with her for three years. His heart is broken to see Sarah get together with Eric. That night while he's driving home, he spots a lost girl and offers to give her a ride home, which happens to be just across from his. That's Sky, and so begins their relationship. Sarah and Sky couldn't be more different. According to Jameson, Sky is all tall, dark and angles. Sarah is all smooth, short and soft curves. Jameson finds himself becoming addicted to Sky and craving her presence more and more, but his feelings for Sarah are still left unresolved. Being with Sky, who insists on brutal honesty at all time, makes Jameson realize that he's falling head over heels for her in a way that's not the same as his being in love with Sarah.


There are a few things about this book that impress me, but let's just start with the fact that I really like its story. I'm glad that this book isn't just about a love triangle, about a guy trying to figure out who he wants to be with, because it definitely felt deeper than that to me. There are family issues that send shudders through me. It felt so real! And there's this thing about "honesty" in this book that really makes you think. Yeah, why can't everyone just be honest? No more guessing and over-analyzing for anyone else. That would make life much easier, wouldn't it? But if you think some truth might scare someone away from you, someone you care about very much, would you say it anyway?
Initially I didn't get this honesty thing about Sky. I didn't see why it's so important, but near the end of the book I understood. And I loved that the foreshadowing is followed by such a twist. I loved that I didn't even see the twist coming and that it isn't just out of nowhere. It didn't feel forced, and it comes at just the right moment. That's one of the great elements in this book.
Another wonderful thing I have to mention is that the male narration feels so natural! Forced and unnatural narration is a big turn-off for me. At first I had my doubt, because not a lot of female writers can really pull that off. But after I've read this book, I have to say that Jolene B. Perry did an awesome job with the narration! It's so believable, the things Jameson feels and says and does are the things that guys feel and say and do. I didn't have any problems with it at all. Throughout this book I saw how Jameson gain maturity, come to terms with his problems, and finally figure out what he really wants. I found myself going along with him like it was the most natural thing in the world.
While I enjoyed Jameson's storytelling, I can't say I liked Sky. Sky is a Native American who comes with mystery and leaves with mystery. She wears next to nothing most of the time. She accepts a stranger's offer and jumps into his car; she strips down to black panties and jumps into his pool. I'm not sure if it's because of the way she's written and portrayed or because I just don't like girls like her in the first place. Although there are some things that I couldn't grasp about her, she's nice enough in the story that it didn't really bother me.
However, I think Sky, among other things, did slightly affect my overall liking towards the book. I think this book is 'good', but it's not what I'd call 'great', as I'm kind of disappointed that I didn't see any quotes memorable or outstanding enough to highlight. Night Sky is well-written with dramatic plot twists, great character developments, and natural, enjoyable narration. If you're a fan of coming-of-age stories, I recommend this book to you. There's something about it that's very addictive and the next thing you know, you might still be up at 2 AM, caught up in this book like I was, unable to put it down.
------------------------
This review is also posted on Goodreads.
A digital copy of this book was provided by the publisher for review and book tour.
Jolene Perry's Bio
:
Jolene grew up in Wasilla, Alaska. She graduated from Southern Utah University with a degree in political science and French, which she used to teach math to middle schoolers.
After living in Washington, Utah and Las Vegas, she now resides in Alaska with her husband, and two children. Aside from writing, Jolene sews, plays the guitar, sings when forced, and spends as much time outside as possible.
She is also the author of The Next Door Boys and the upcoming Knee Deep.
NIGHT SKY links: