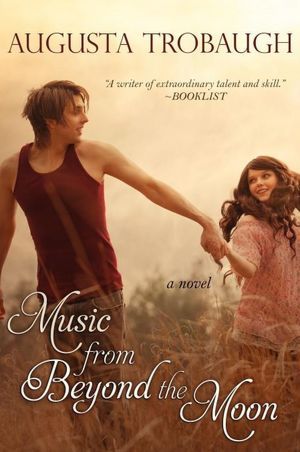 Title:
Music from Beyond the Moon
Author:
Augusta Trobaugh
Genre:
Historical Fiction
Release date: April 30, 2012
Publisher: Bell Bridge Books
Format: eBook
Pages: 266
Source: Publisher via NetGalley
Links:
Goodreads
|
Amazon
|
Bookdepository
Read from April 28 - May 17, 2012
My rating:

Summary

: She became his soul mate and first love, but can he and she escape a destiny that was decided before they were born? In 1920's Florida, an abandoned baby boy grows up under a cloud of mystery, adopted by two strong southern women who try to protect him from his family's secrets and heartaches. But even their best intentions and deepest devotion can't hide the truth forever or soften the fate that faces both him and the girl he loves. Augusta Trobaugh's unforgettable novel speaks of loyalty, loss, the difficult choices we make in the name of family, and of courageous hope, each inspired by the fragile and painfully longing music of life, a song that seems to come from beyond the moon.
"That's what love is like—it's mysterious and far away, and we can never even really touch it—never hold it tight at the same time, never let it go. But we can hear it sometimes, honey. Like music. Music from beyond the moon."
The first thing I have to say about this book is that I'm glad I finally got it over with. Had it been a wonderful read? No, not really. Was it more like a sleeping pill? Yes, yes, yes, definitely! After 20 days, an end was put to this misery of mine. Who'd have thought a 266-page book could take me this long to finish? This book is incredibly boring. There, I came right out and said it. Am I being harsh? Maybe. But if I were a reader looking for the next book to read, and thought this book might be it, that's what I'd want to know. There are a lot more better ways to spend your time than with the wrong book, trust me.


Music from Beyond the Moon
started off pretty amazingly for a book that could literally bore me to tears. It's 1924 when a baby boy is abandoned by his mother in the backyard (I think) of a house owned by two southern women in a place called Love-Oak in Florida. The women, Fiona and Glory, take him into their home and give him all the love in their world. They give him a name (Victor), love him and raise him like he was their own. But the plot isn't what I'm talking about here. Here is the one thing I liked about this book: the writing. I could see vivid details of what was going on. I could feel the emotions coming out of the characters. I loved that. The author's words are very well chosen and they form these amazing sentences. Oh, her writing is gorgeous! I'm a sucker for good writing, alright.
Here's my favorite:
"Her thoughts are like wild birds flying blindly around a cage they didn't know was there."
I loved the way her words are strung together. It's kind of sad that that's where the compliment has to end. However good the author's way with words may be, I can't like her book if the story isn't well written, and that's definitely the case. I lost interest as soon as 2% of the book was over. That's just about how good the book is to me. That's a little before the part where the author started making the book so off-topic and lose its focus on the story that it was hard for me to try to understand why she did this. That's where enjoyment ended and "tolerance" started.
There are quite a number of problems I had with this book. The author seemed to have written everything about every one of the character, which is quite over the top. Do I need to know how the lives of everyone were before the book starts? Of course not. Most of those things are totally unnecessary. So many stories about the past of these characters are put in the book that it made me wonder what this book is really about, and whom it is supposed to focus on. I understand that the past needs to be told in order to shape the future, but it really wouldn't be that difficult to cut out the mumbo jumbo and unnecessary sub-plots, would it? That would have made my reading much easier and more comfortable. This book has a problem staying focused on the main plot, and that's very annoying. It leads you off-topic for what seems like 20 pages and that makes it hard to get back on track, and you don't remember anymore what was happening before that. When a book is written in this manner, it usually gets a bye-bye from me.
The message of this book to me is pretty clear. Since
Music from Beyond the Moon
is a book about love and the tragedy it brings, its makes you see how love can break you and how terrible something as wonderful as love can be. Heartbreaking stories of each character are told one after another: A woman who thought she knew love but didn't; a good girl gone bad loving the wrong guy; a mother who had to go; love between two young people that just can't be; etc. Sometimes I could feel their pain, but most of the time I was annoyed instead. I would've really liked this book if it hadn't been for the way it was written.
So here's the bottom line: I wouldn't recommend this book to anyone.
------------------------
This review is also posted on Goodreads.
I received a digital copy from NetGalley and the publisher for review.