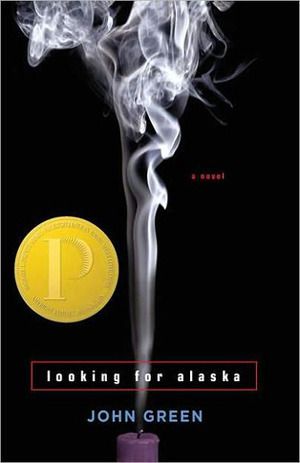 Title:
Looking for Alaska
Author:
John Green
Genre:
Young Adult Contemporary
Release Date: January 1, 2005
Publisher: Speak
Format: Paperback
Pages: 231
Links:
Goodreads
|
Amazon
|
Bookdepository
Read from March 5 to 6, 2013
My rating:

+

Summary: Before. Miles "Pudge" Halter's whole existence has been one big nonevent, and his obsession with famous last words has only made him crave the "Great Perhaps" (François Rabelais, poet) even more. Then he heads off to the sometimes crazy, possibly unstable, and anything-but-boring world of Culver Creek Boarding School, and his life becomes the opposite of safe. Because down the hall is Alaska Young. The gorgeous, clever, funny, sexy, self-destructive, screwed-up, and utterly fascinating Alaska Young, who is an event unto herself. She pulls Pudge into her world, launches him into the Great Perhaps, and steals his heart.
After. Nothing is ever the same.
"You spend your whole life stuck in the labyrinth, thinking how you'll escape one day, and how awesome it will be, and imagining that future keeps you going, but you never do it. You just use the future to escape the present."
Thus began my John Green book marathon (I finished this and
Katherines
, am reading
Paper Towns
next). I'd been meaning to read
Looking for Alaska
for so long, but 1) I couldn't really find the time to and 2) no, actually, I was afraid of ending up not liking it (kind of like the quote I put above; I kept thinking I would read it one day and it would be awesome but I never did it because I was afraid of being proven wrong—brilliant quote, by the way, John Green). Well, now that I couldn't resist it anymore and finally read it, I feel so stupid for having putting it off all this time. We're only about 2 months and 2 weeks into 2013, and this is the best read by far. Dang! I really should've read this much sooner! I hope 8 years after the publication date isn't too long. Still, better late than never, right?
It's one of those times again when a book affects me so much that I don't know how to begin talking about it properly. Here goes nothing.
Looking for Alaska
is divided into "before" and "after," and by looking at it I kind of knew what was to come. This is not a subtle foreshadow, but rather blatant, and I was really happy and looking forward to the heart-wrenching parts because God knows I live for tearjerkers. In the "before" part, Miles "Pudge" Halter leaves home to attend a boarding school in order to leave behind the same old things and seek "the Great Perhaps." Not having any friends before, Miles surprisingly makes a few friends who totally kick ass: "the Colonel", Alaska, and Takumi. Miles gets pulled into their pranks and become a part of this circle of great friendship. More than anyone, Miles is drawn to Alaska—the reckless, unstable, unstoppable, impulsive, loud, fun, beautiful, rude, unhappy, bookish Alaska Young, the girl who "embodies the Great Perhaps" and changes everything in his world in the "after" part.
I enjoyed the story, the characters, the writing, everything. I loved how this is a coming-of-age story with heartfelt heartbreak and love and loss and sadness and misery and friendship and nostalgia and mistakes and regrets and longing for a better future. This book has everything that I love to read about, and it blends all these things together perfectly. About halfway through the book, I couldn't feel its amazingness yet, and I thought it was just okay. But once it goes into the second half of the book I just couldn't stop the tears from coming. I
felt
so much, and yet too little; I couldn't get enough of the sadness the book drowned me in. I felt
alive
.
Like I said in my
Katherines
review, John Green's characters are brilliantly crafted. I loved them. Even though I don't have much in common with Pudge, I respect him greatly. Not a lot of people realize that they've had enough and that they need to change, or have the courage to leave things behind in hope for a better unknown. I feel like a total loser in comparison to him; I always complain about how I hate it and how I'm so full of it, and I dream about leaving all of it behind but I never really do anything about it (again, like the quote above). And Alaska, she's so full of hope and misery that she reminds me of myself (this is not to say I'm as cool as her, but I think we're both similarly "deeply unhappy" with our lives). I'm known for my unpredicatable ups and downs, and with a little trigger, I can freak out for the longest time about things I have no power to change. I feel like I get her, and she gets me. The way she sees life and the world is heartbreaking. Even with all her flaws, Alaska is a perfect character the way she is, and I love her with all my "crooked heart."
I don't think any more needs to be said other than that
Looking for Alaska
is just what I've been looking for to get me out of my epic reading slump. In the time when hardly any books move me,
Alaska
managed to get a hold of my heart and wrench it, wrench it so hard it hurt all over, and made me once again susceptible to feelings besides boredom. I submerged myself in the overwhelming floods of emotions, in which there was some sort of illumination about life and suffering. John Green's writing enveloped me with warmth on top of all that. Although my first reaction when I finished the book was to give it 4.5 stars, I changed my mind as I slept on it these past two days. This book is glorious and deserving of every praise.
------------------------
This review is also posted on
Goodreads
.