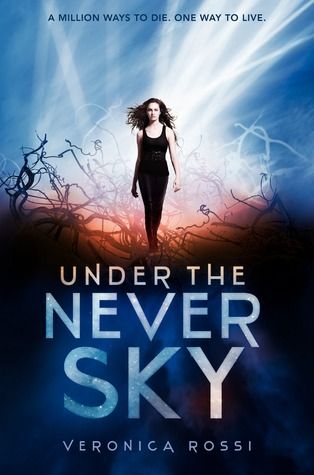 Title:
Under the Never Sky
Author:
Veronica Rossi
Series: Under the Never Sky, #1
Genre: Young Adult Dystopia
Release Date: January 3, 2012
Publisher: Harper Collins
Pages: 376
Format: eBook
Source: Publisher via NetGalley
Links:
Goodreads
|
Amazon
|
Bookdepository
Read from
February 20 - 23, 2012
My rating:

Summary

: Since she'd been on the outside, she'd survived an Aether storm, she'd had a knife held to her throat, and she'd seen men murdered. This was worse. Exiled from her home, the enclosed city of Reverie, Aria knows her chances of surviving in the outer wasteland—known as The Death Shop—are slim. If the cannibals don't get her, the violent, electrified energy storms will. She's been taught that the very air she breathes can kill her. Then Aria meets an Outsider named Perry. He's wild—a savage—and her only hope of staying alive. A hunter for his tribe in a merciless landscape, Perry views Aria as sheltered and fragile—everything he would expect from a Dweller. But he needs Aria's help too; she alone holds the key to his redemption. Opposites in nearly every way, Aria and Perry must accept each other to survive. Their unlikely alliance forges a bond that will determine the fate of all who live under the never sky.
First of all, GORGEOUS cover! If you swoon over pretty book covers like me, this one is a must-have. :D And also the title! I love the title for some reasons. It sounds kinda poetic and deep and all that to me. Me likey!
I didn't know what to expect before reading UNDER THE NEVER SKY. I've read some reviews and seen that it's a dystopian book -- something that is very popular at the moment which I have very little to no experience with. Needless to say, the first chapter was totally confusing for me. All those weird names like Ag6 and Pod and Dweller and Savage and Outsider and Smarteye. At that time I was pretty sure I could never understand the world building. But surprisingly, I did understand it! I guess I'm somewhat heavy-headed so it had to take some time for all the details to gather inside my head and sink in and make sense. Once the world building became clear to me, I could see that it was AWESOME. Like, WHOA, AWESOME. And unique. I can't explain it. It's way too complicated for me to break it down. If you want to know how awesome it is, you have to read it!
For another thing, I loved the romance between Aria and Perry, alright. I'm a sucker for cute romance. SQUEE! Although this one isn't cute from start to finish, it seems very real and believable to me. At first Aria is scared of Perry and thinks he's disgusting because he's an Outsider, a Savage. Perry thinks Aria is a weak, fragile, snobby Dweller who doesn't know how to survive out in the real world. Obviously, this isn't an instant crush. I loved how they slowly fall in love with each other because they need each other's help and all the things they've been through together make them closer.
I also love the sub-plots. They're quite mind-blowing. Things that never crossed my mind happen and I was always stunned, like WOW stunned. Lots of surprises! The story is written in the third person point of view with shifted perspective on both Aria and Perry. And the ending kills me. Seriously, it's a very impressive ending. I don't know. I really love how it's written. Got me squeeing big time!
I think this book is very well crafted and written, indeed! Fantastic read! I can't wait for book two!
------------------------
This review is also posted on Goodreads.
I received a digital copy from NetGalley and the publisher for review.