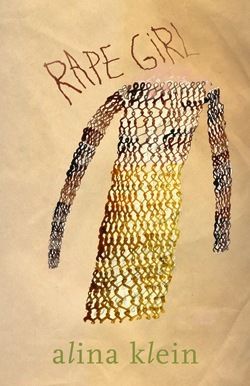 Title:
Rape Girl
Author:
Alina Klein
Genre:
Young Adult Contemporary
Release Date: August 15, 2012 by namelos
Format: eBook
Pages: 126
Source: Publisher via NetGalley
Links:
Goodreads
|
Amazon
|
Bookdepostory
Read on August 11, 2012
My Rating:

Summary

: Valerie always wanted to be the smart girl. The pretty girl. The popular girl. But not the rape girl. That's who she is now. Rape Girl. Because everyone seems to think they know the truth about what happened with Adam that day, and they don't think Valerie's telling it. Before, she had a best friend, a crush, and a close-knit family. After, she has a court case, a support group, and a house full of strangers. The real truth is, nothing will ever be the same. Rape Girl is the compelling story of a survivor who does the right thing and suffers for it. It is also the story of a young woman's struggle to find the strength to fight back.
"Hey, look. It's that girl. That rape girl, right?"
After Adam's raped Valerie and her mother's told the police, Valerie is labeled the "rape girl" and a liar. Her friends turn their backs on her because they either really don't believe her, or they just want to still be on Adam's side, the popular people side. Valerie is torn. She's the victim, but people treat her as if she's the guilty one. She's separated from class and can't show her face in public, while the rapist still lives his life normally as if nothing's happened. What's more, Valerie is blamed for making up a story that will keep Adam from his becoming a missionary. This is ridiculous.
While I was drawn to the heavy subject matter of this book at first, I regret to say I didn't like it. I didn't feel connected to Valerie at all. This is probably because the author didn't allow us readers to get to know her that well within the limited 126 pages. Yes, this novel is very short, and that's the problem for me. There's hardly any tension to feel at all. And although this is a young adult contemporary, I feel like Valerie's voice isn't strong enough. It sounds like a teen voice, as in a 13-year-old teen complaining about life or something like that. I could hardly feel anything from her words. If anything, I think she's only
telling
a story without
showing
us how she feels. It's hard to like a character when she doesn't really allow us to feel her emotions, in my opinion.
I won't argue that it sucks. Being raped and still getting treated like the wrong one. And having to go through all those tests, rape kits, interrogations, and everyone's whispers and stares are no fun. Your life changes even if you're the victim. I know, it sucks, it's terrible, it's infuriating, and it definitely isn't fair. But I have to say that the book doesn't portray it that well and is well-developed enough for me to like it. This isn't the best story about a rape victim either. In the end, it still remains unclear whether or not Valerie can put it behind her and move on. But honestly, I don't care about her enough to want to find out.
------------------------
This review is also posted on Goodreads.
I received a digital copy from NetGalley and the publisher for review.