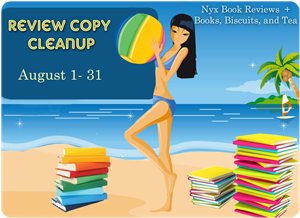 This challenge is hosted by Books, Biscuits, and Tea and Nyx Book Reviews. Head over here if you want to join. Sign-up is open until August 15!
Since I forgot to make an update post last week, this post will cover the first two weeks of August. Normally during uni, I get to read only about 4-6 books a month. And 8 books tops when I'm free and lucky. Because uni consumes me almost completely. And surely there are two months that I don't get to read anything at all: midterm month and final month. August is, in fact, the month between those two. So I figured I should read as much as I can in August to make up for the lack of reading in the previous month and next month. I should say I'm doing a very good job, being on schedule and all, which is surprising and incredible even for me.
I've finished 6 review copies in the first two weeks of August already!
1.
Glitch
by Heather Anastasiu
2. The Wednesdays by Julie Bourbeau
3. Let's Hear it for Almigal by Wendy Kupfer
6. Rape Girl by Alina Klein
I have yet to review half of them, though. ;)
I plan to finish these books in August:
1.
Speechless
by Hannah Harrington (CURRENTLY READING)
5.
Reflection
by Jessica Roberts (not ARC but for book tour)
Whew. Still half the number to go in half a month!
And there are still these I need to read for FINALS!
1.
Er hieß Jan
by Irina Korschunow (for German class)
2.
The Land of Decoration
by Grace McCleen (for Eng Reading class)
3.
The Handmaid's Tale
by Margaret Atwood (for Eng Lit class, will be a reread)
4.
Life & Times of Michael K
by J.M. Coetzee (for Intro Lit report)
All of this looks very discouraging. But I can't give up!
I'll be updating again next week. See you then. :)