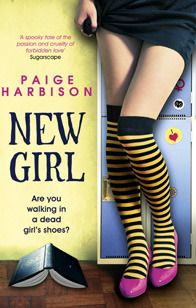 Title:
New Girl
Author:
Paige Harbison
Genre:
Young Adult Contemporary
Publisher: Harlequin UK
Pages: 231
Format: eBook
Source: Publisher via NetGalley
Links:
Goodreads
|
Amazon
|
Bookdepository
Read from April 16 - 17, 2012
Rating:

Summary

: You've got her room. You've got her boyfriend. Are you walking in a dead girl's shoes? I'm New Girl. Ever since I arrived at exclusive, prestigious Manderly Academy, that's who I am. New girl. Unknown. But not unnoticed-because of her. Becca Normandy-that's the name on everyone's lips. The girl whose picture I see everywhere. The girl I can't compare to. I mean, her going missing is the only reason a spot opened up for me at the academy. And everyone stares at me like it's my fault. Except for Max Holloway-the boy whose name shouldn't be spoken. At least, not by me. Everyone thinks of him as Becca's boyfriend... but she's gone, and here I am, replacing her. I wish it were that easy. Sometimes, when I think of Max, I can imagine how Becca's life was so much better than mine could ever be. And maybe she's still out there, waiting to take it back.
Well, the truth is I've been sitting here staring at this white blank page for like two to three hours. I'm trying to think about my true feeling, but I can't quite put my fingers on what it is. It's definitely not
ZOMG-what-is-this-omg-omg-omg
that undoubtedly comes with five shiny stars, but it's somewhere between
I-liked-it-but-I'll-soon-forget-about-it
3 stars, and
this-has-made-a-huge-impression-on-me-and-I-was-thoroughly-entertained
4 stars. Hmmmm..
.
I'd wanted to read
New Girl
since last year, and was pretty sure I'd love it, too. And now that I've read it... I'm not sure. While I
did
enjoy it tremendously, I couldn't say I was very impressed, and I'm pretty sure I'll soon forget about it and won't look back once it slips my working memory. It's like while you're reading it, you just enjoy everything in the moment, and it's great, because the story keeps you hooked. However, once it ends, you begin to look at the big picture, and you feel like it's good, but just not that great.
New Girl
by Paige Harbison is a story about two new girls at two different periods of time. Last year, the new girl was Rebecca Normandy, aka Becca, who went missing at the end of the school year, and hasn't been seen ever since. With Becca gone, her spot at Manderly boarding school opened up, and is then taken by this year's new girl, who is known as just New Girl until her real name is revealed at the end of the book. The two girls can't be any more different. While they all loved Becca, the people at Manderly are always giving New Girl a hard time, saying things to hurt her, whispering behind her back. They even accuse her of trying to be Becca, and of trying to hook up with Becca's two love interests Max and Johnny, who used to be best friends until Becca happened. They don't bother to really get to know her, but if they did, they would know that she and Becca are kind of from different species and New Girl isn't trying to be like her.
I think the story is great! It's told in two points of view: New Girl's (in first person) and Becca's (in third person), and that really allows us to look beyond the surface and perceive the thoughts that are running through their heads.
New Girl
is a very addictive book, and the fact that I had to read it on my computer screen surprisingly didn't scare me away. I couldn't avert my gaze. The book kept me glued to my seat and unable to go to bed. That counted for something, surely. It's this mystery of not knowing whether Becca is just gone or dead or whether she's coming back or not, which runs in the background in the book, that kept me wanting to know more.
I really liked how the book shows a clash of two new girls' personalities. Becca is all about appearance. She's always seeking attention and wants to outshine everyone else to feel good about herself. She makes a lot of effort to make chasing boys look effortless and look as if
she
is being pursued and not the other way around. But of course, the people at Manderly don't know this, and they don't care. They adore her because she's pretty and fun and wild, and they're affected even by her mere presence. They believe everything she says, even though most of that is lies she spreads to make herself look good. Can you even believe that she buys a present for herself and tells everyone that Max gives it to her? Anything for appearance, yes. New Girl, on the other hand, doesn't want anything more than everyone to stop comparing her to Becca, to be left alone for once and get Max' attention.
Did you notice how I wrote the previous paragraph? Yep, I didn't feel like I knew New Girl as well as I knew Becca. That's one thing I didn't really like about the book. I had a feeling the author focused too much on making New Girl a victim that her character becomes really outshone by Becca's (which I think Becca would really like). And after a while, the victimization kind of gets old. I mean, I felt for New Girl at first, I know it must hurt. But then it gets repetitive, what with the insults and the whispering and Dana the nutcase breaking down and all. I recalled her often complaining about being compared to Becca, and saying "I'm not trying to be her!" or "I don't want to be her!" or "I don't even know her!" far too many times. I only started seeing that after I finished the book. I looked at the picture and saw what I failed to see when I was caught up in what was going on.
I really enjoyed Paige Harbison's writing and the characters she built. But as I said, I felt like I didn't know New Girl as the main character as well as I'm supposed to. Aside from the facts that she grew up in St. Augustine in Florida and has wanted to attend a boarding school since childhood because of Harry Potter's Hogwarts, and that she has wavy hair, tanned skin, and freckles, I don't know anything else about her or her personalities. Becca, on the other hand, is very well portrayed. She's evil, and we get to know all her evil, jealous thoughts in her head. She's an attention seeker, a compulsive liar, and a manipulative
b*tch
person. She uses all kinds of manipulations to get what she wants: blackmailing, sex, lies, you name it. It's kind of disgusting, really, but Becca is such a strong character that it's hard not to be drawn to her. Becca's two love interests at Manderly are Max and Johnny. Now, I don't understand why the girls are crazy for Max. Well, he's hot, okay I get that, but he's a bit of a jerk. He's almost always swearing and ignores them, and he's also aggressive and violent. Johnny is the endearing one. He's so sweet that I felt bad for him for being attracted to Becca. Then there's Dana whom I sort of hate. Dana was Becca's roommate and is now New Girl's roommate. She hates New Girl and is always giving her a hard time, always yelling and breaking down, and shoving her care for Becca in people's faces. Dana needs to calm down and back off. She's friggin' annoying, okay. I have to say I'm quite impressed by how each character gives me all these different feelings.
Right, I'll need to leave the house in like 5 minutes so I'm going to wrap it up real quick.
New Girl
is a fun novel. Its mystery and suspense will keep you hooked until the very end. I really enjoyed it! An exciting and mysterious read worth reading!
------------------------
This review is also posted on
Goodreads
.
I received this title from NetGalley and Harlequin UK for review.