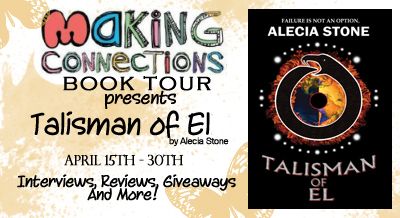 Please join me in welcoming Alecia Stone, author of Talisman of El, to the blog today. :)
Title:
Talisman of El
Summary
: WHAT IF YOUR WHOLE LIFE WAS A LIE?
One Planet.
Two Worlds.
Population: Human ... 7 billion.
Others ... unknown.
When 14-year-old Char­lie Blake wakes up sweat­ing and gasp­ing for air in the mid­dle of the night, he knows it is hap­pen­ing again. This time he wit­nesses a bru­tal mur­der. He's afraid to tell any­one. No one would believe him ... because it was a dream. Just like the one he had four years ago - the day before his dad died. Char­lie doesn't know why this is hap­pen­ing. He would give any­thing to have an ordi­nary life. The prob­lem: he doesn't belong in the world he knows as home.
He belongs with the others.
Guest Post: The Language of Arcadia
It was touch and go there for a second, deciding whether to give the people of Arcadia their own language. After fully immersing myself into the culture of these mystical beings, I realised that they did indeed need their own tongue. So, I would like to introduce you to the language of Arcadia.
Arcadian is the language of the fictional world of Arcadia. It is the mother tongue of Earth - the first spoken and written language. Arcadian has a similar writing system that correspondence to the Classic Latin Alphabet. It consists of letters from A-Z and symbols that corresponds to those letters and to the ten numerals 0-9.
The Arcadian letters are found at the top, followed by the symbols and then the Latin Alphabet in the third line (A-Z). To create a sentence, you simply merge the letters of the alphabet together, the same way you would write in English. See the example below.
English: There is no place like home.
Arcadian (words): Tileve op ci firake rohe lime.

Sometimes a notion is represented by a single symbol. For example, the symbol for the letter X is known as the symbol of protection.
Being a fan of fantasy fiction, Alecia Stone's novel was inspired by her love for paranormal mysteries. She loves to write for it is a means of escaping her reality if only for a moment. Talisman Of El is her first book. She lives in the England, UK with her family.