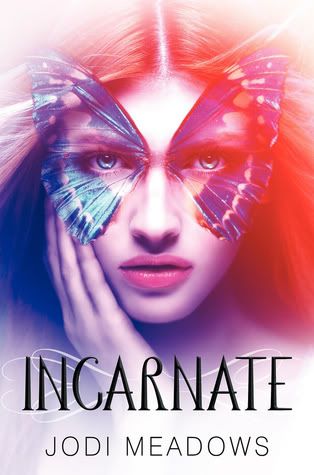 Title:
Incarnate
Author:
Jodi Meadows
Series: Newsoul #1
Genre:
Young Adult Fantasy
Release Date: January 31, 2012
Publisher: HarperCollins Children's Books
Format: eBook
Pages: 234
Source: Publisher via NetGalley
Links:
Goodreads
|
Amazon
|
Bookdepository
Read from December 5 to 6, 2011
My rating:

Summary: Ana is new. For thousands of years in Range, a million souls have been reincarnated over and over, keeping their memories and experiences from previous lifetimes. When Ana was born, another soul vanished, and no one knows why. Even Ana's own mother thinks she's a nosoul, an omen of worse things to come, and has kept her away from society. To escape her seclusion and learn whether she'll be reincarnated, Ana travels to the city of Heart, but its citizens are suspicious and afraid of what her presence means. When dragons and sylph attack the city, is Ana to blame? Sam believes Ana's new soul is good and worthwhile. When he stands up for her, their relationship blooms. But can he love someone who may live only once, and will Ana's enemies—human and creature alike—let them be together? Ana needs to uncover the mistake that gave her someone else's life, but will her quest threaten the peace of Heart and destroy the promise of reincarnation for all?
Can I just say that
Incarnate
totally blew me away? This doesn't happen very often, so it's a big deal here. Thank you Netgalley and HarperCollins for sending me a galley to read and review! I'm so glad to have read this awesomeness!
Love, love, love it. I don't really read much fantasy other than the Harry Potter series but I have to say that this one is REALLY GOOD. I didn't know what to expect when I dove into it, and I found myself attached to my chair and unable to take my eyes off the screen! I usually don't have much patience with ebooks, but I finished
Incarnate
in two sittings, so that says a lot. It's so addictive!
Incarnate
is the first book in the Newsoul trilogy. The books are expected to be published in 2012, 2013, and 2014 consecutively. In the first book, the story revolves around an 18-year-old girl named Ana, who was born in the 330th Year of Songs, in a world where there is exactly one million human beings, plus other creatures like sylphs and dragons. In this very world, the one million souls reincarnate over and over again when their bodies die, and grow up remembering all their past lives. But the problem is this: Ciana, a soul who died and was supposed to come back, didn't reincarnate after all. Five years after Ciana's death, Ana was born. She is the only one newsoul in the world where other 999,999 souls have already known each other since their thousands of years of living. No one knows why Ana is born, and why she replaced Ciana. Ana grew up with her mother, Li, hating her for a being a 'nosoul', not acknowledging the world outside the wall of her house. Her father, Menehem, is believed to have abandoned them since her birth because he was ashamed. She comes to believe that she's a nosoul, and nosouls aren't capable of feeling things like love, or don't deserve things like honey and coffee. She feels incredibly alone. On her 18th birthday, she decides to leave home to go to the city of Heart to find some answers for all her why's. Li gives her a bad compass, sending her far in Range, where she is attacked by sylphs (invisible shadowy creatures that burn when touched), jumps off the cliff to face a more pleasant death, and is rescued by Sam.
The world building, in my opinion, is great. I mean, I could
see
what the author wrote in my head. Still, I wish there were more fantasy/mythological creatures in this book other than sylphs and dragons all the time. At first I didn't quite grasp the reincarnation idea and all, but as I read on, it made more sense. It's a bit weird, but interesting nevertheless. Someone could be a male in the last life and be born a female in this life, and your best friend two lives ago could be your mother in the current one. Awkward, but fascinating. I haven't quite seen anything like it before. As someone in a Buddhist country, I am very well familiar with the concept of reincarnation. People with sins have to reincarnate to suffer the consequences of the sinful deeds in their past life
which I personally find quite unfair
. Buddhists believes that there is a way out of reincarnation, a way to eternal peace, which is Nirvana. A lot of Buddhists become ordained as monks to train themselves, become enlightened, and go to nirvana and eternal peace for good when they die, while in
Incarnate
, sins have nothing to do with it, and it never occurs (as I know of) to people that maybe they don't want to be reborn. In fact, they're quite afraid to stop existing. Lord Buddha's teaching and doctrines are to help Buddhist souls stop reincarnating, while Janan, the God in
Incarnate
, is the one who keeps reincarnation going. So while the concept of reincarnation isn't something new for me, the way
Incarnate
deals with it actually is.
The romance between Sam and Ana made me continually grin like mad. I'm a sucker for cute romance, okay? The thing about her liking him and his being her hero even before they met was like FKGJADOJFEPCFKAOAE. Nicely done there, Jodi Meadows. While it's clear why Ana falls in love with Sam, I couldn't really figure out why he likes her. Maybe because of the extreme closeness? Or by getting to know her intimately? By being together 24/7? By constantly saving each others' lives? He never really says anything much more about that than that he wanted to kiss her since the first day they met (why?). But the romance is good. The tension was great. Especially at the masquerade. Whee!
I really enjoy Meadows' writing. It's simple and it flows. It keeps you going on and on without pause! However,
should any changes be made in the final draft before the official publication, here are my ideas
there are some minor things that bugged me about this book.
Firstly, I have to admit I found it a little bit difficult to follow the conversation. At first I thought it was just me, but I've read some reviews and it seems like other readers felt the same way. I had to reread the dialogue a few times to figure out who said what. So adding dialogue tags would be good idea.
Secondly, there are still some questions left unanswered. I don't know whether Jodi Meadows planned to answer them in the second or third book or just ignore them. Some of the questions are asked since early on in the novel, some later, and I don't think they should be left like this. LOOK AWAY IF YOU MUST, THEY'RE SPOILERS. Here are some of mine: 1) Why did Sam lie about his birthday? When is his birthday actually? 2) Is Janan real? What's his purpose of reincarnation? 3) Why do dragons keep attacking the temple? Any significance or purpose? To stop reincarnation? But why? I mean, they're dragons, they don't reincarnate, do they? 4) Why does the door to the temple suddenly appear out of the blue to Ana? 5) So she's a "mistake"? THAT'S IT? Does this mean her search for the meaning of her birth is over? 6) How does Menehem poison Janan? Why does he want to stop reincarnation? 7) Is it Li who tried to kill Ana? Why? I really want these questions answered in the book.
Lastly, I think some of the things in the book are not given much importance or just ignored. Things like progress reports are like empty threats. Ana doesn't even talk about the results or anything, or her progress, for that matter, other than piano and dance. And according to the book, she spends a lot of time going to the library, but she rarely talks about what she's found. Isn't that a bit pointless?
There are just so many things I love about
Incarnate
, but I'm also aware that it is not perfect. The thing is these things can be overlooked because the thrilling experience
Incarnate
gave me during reading was all it took for me to give it big fat 5 stars!
My favorite quote: "There's always the option of deciding for yourself who you are and what you'll become." - Sam
I can't wait for book two and three! SERIOUSLY!!!!!!!!
------------------------
This review is also posted on
Goodreads
.
I received a digital ARC from NetGalley and the publisher for review.