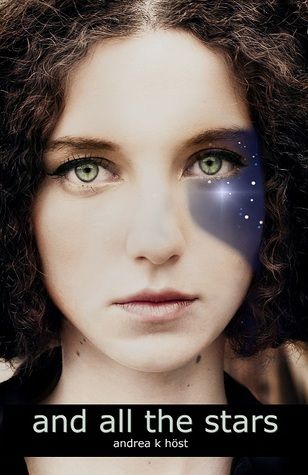 Title:
And All The Stars
Author:
Andrea K. Höst
Genre:
Young Adult Science Fiction
Release Date: October 1, 2012
Publisher: Andrea K. Höst
Pages: 279
Format: eBook
Source: Publisher via NetGalley
Links:
Goodreads
|
Amazon
Read from October 1 to 2, 2012
My rating:

Summary

: Come for the apocalypse. Stay for cupcakes. Die for love. Madeleine Cost is working to become the youngest person ever to win the Archibald Prize for portraiture. Her elusive cousin Tyler is the perfect subject: androgynous, beautiful, and famous. All she needs to do is pin him down for the sittings. None of her plans factored in the Spires: featureless, impossible, spearing into the hearts of cities across the world – and spraying clouds of sparkling dust into the wind. Is it an alien invasion? Germ warfare? They are questions everyone on Earth would like answered, but Madeleine has a more immediate problem. At Ground Zero of the Sydney Spire, beneath the collapsed ruin of St James Station, she must make it to the surface before she can hope to find out if the world is ending.
Everyone here wants to do something in the abstract, but to get anywhere, to find a way to fight them, we're going to have to gamble everything.
A pretty refreshing read!
And All the Stars
, thankfully, isn't one of those YA dystopian books that are pervading the market. It's not
post
-apocalyptic; it's takes place
during
an apocalypse! Yay!
Interesting as it is, I'm not sure if I understood everything this book threw at me, because honestly, I skipped a dozen of pages. I must say that the writing is very good. I thoroughly enjoyed the way the words made up the story. The story itself started out nicely, and I was like wow wow wow wow. But after a while the excitement died down and I was bored. Again. I should mention that I'm bored by a lot of books recently. I don't know anymore if my boredom results directly from the books being boring or from my newly-developed inability to enjoy anything. If I'm being completely honest with myself, I'd say the latter. But seriously, it's got to be because of the books too, right? Maybe it's just that I have been reading boring books, so I don't enjoy it, so I'm bored.
Anyway. Good writing, nice ideas. Is it alien invasion? Not sure, but it's the most likely. I like the skin color change idea. Midnight blue with stars? I'd love that. However, the book felt too long to me. Like way too long for its own good. There are parts where nothing really happens at all and everyone's just sitting there and watching their skins go blue or green, or walking out of the hiding place and walking back and whatever. It felt boring at times because of the tedious long-winded narration of nothings after nothings. And when something really does happen, it's awesome. Like fighting aliens and science talk and something like that. The drawback is that there are too few of these. I wish the book were more action-packed.
The romance in the book is quite unexpected, but it's pretty nice. I loved that Fisher isn't the real Fisher since we get to know him. And I understood what Madeleine feels like when she knows it's not him, when she becomes unsure who she's really in love with. I like the way the characters are all mature, even the younger ones are mature. Each of the characters is outstanding in their own ways and I like that. There's a character named Noi. I almost flipped when I saw the name 'cause I just knew that she must be Thai. I mean, no one writes about Thai people, only Thai food. So it's a little surprising to find her among the heroe, the Blue Musketeers. And I loved the alien-turned-hero Theoden, or whatever he is.
Fight. Always fight. No matter how impossible the odds, no matter who you've lost, how you've been hurt. If there doesn't seem to be a way out, look for one. If you seem to have come to an end, start afresh. Never, ever give up.
In the end, I have to admit and remind you that I didn't understand everything. There might be some things I missed that could have changed the way I felt about this book. But the point is that this is the way I feel now. And while I don't love it like the others seem to (out of 17 ratings so far: 13 five-stars and 4 four-stars), I did enjoy it to certain levels and found this to be a very refreshing read. A good choice if you want to escape mainstream fictions!
------------------------
This review is also posted on Goodreads.
I received a digital copy of this book from NetGalley and the author for review.