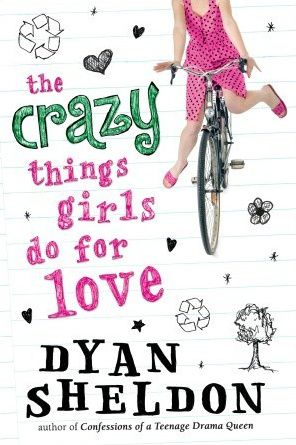 Title:
The Crazy Things Girls Do For Love
Author:
Dyan Sheldon
Genre:
Teen
,
Young Adult Contemporary
Release Date: December 13, 2011
Publisher: Candlewick Press
Pages: 352
Format: eBook
Source: Publisher via NetGalley
Links:
Goodreads
|
Amazon
|
Bookdepository
Read from
February 14 - 20, 2012
My rating:

Summary

: Sicilee and Maya have been rivals since elementary school. Now in high school, they dislike each other more than ever. Sicilee is the center of the most popular group at Clifton Springs, and Maya is the heart of the hip, trendy set. And neither of them is likely to notice Waneeda, who prefers to eat candy and work as little as possible. None of these girls has a thing in common until Cody Lightfoot, the most drop-dead gorgeous boy imaginable, joins the student body, causing every girl's head to turn. But all Cody seems to care about is the Environmental Club, which has the distinction of being the most unpopular club in the history of the school. Nerdy club or not, none of the three girls can let the other be the first to get a date with Cody. But how far are they prepared to go? Will Waneeda actually join a club? Will Sicilee start reading labels rather than wearing them? Will Maya take up riding her bike to school and eating tofu? With her trademark quick-fire wit, Dyan Sheldon shows just what girls will do for love and what earth-changing realizations they might have along the way, despite themselves.

The Crazy Things Girls Do For Love by Dyan Sheldon is a light, easy read, which is also sharp, funny, and witty! It shouldn't take you more than two days to finish it, because as I said, it is very light. (But unfortunately I've been so overwhelmed by uni work, so it took me 6 days.) If you're looking for something hilarious and enjoyable and easy to read, this book is for you!

The story starts as Cody Lightfoot, a drop-dead gorgeous, super good-looking guy sets his foot on Clifton Springs high school, making probably all the female heads turn. Cody then joins the Environmental Club, which was previously viewed as a loser club, and rescues it from being shut down by the school, by effortlessly recruiting many members, most of them, if not all, are girls captivated by his charms. Sicilee Kewe, the most popular girl in the most popular clique in the school, wants to win Cody's heart. And so do the arty Maya and the loner Waneeda. These girls are willing to go to great lengths, not to mention crazy, in order to do so.


I like the plot that trying to impress a crush ends up in something far greater than they expect. They finally learn to really care about the environment, and not just pretending to like they did in the earlier parts of the story. I especially enjoy their snide remarks aimed at each other. Really humorous and witty. Although these girls annoy me sometimes, I understand that the book is being realistic, as I used to be young and crazy and annoying like that too.

If there's anything I don't like, it is this: I feel like Cody's character is a little bit forced. At first he seems like a nice guy who really cares about the world and everything, going around convincing superior people that environment really matters. But then suddenly it turns out he isn't actually what he seems to be. I feel like this part is forced. Like the author wanted to make Cody bad because then she could add some depth to the story, so Cody wouldn't be perfect, so Cody wouldn't have to choose which girl to be with, because they would already see the real him and feel disappointed and realize he wasn't worth it.

What is outstanding about this book is the fact that it is a fiction concerning environmental issues. Most of the time, a lot of people find it boring to talk about the environment and what we're doing to destroy it. However, this book was so cleverly written that these stuff don't feel too much and boring at all. It's nice to have books out there that raise awareness for young readers!

Also, this fun, easy read a happy ending! That makes me happy!
------------------------
This review is also posted on
Goodreads
.
I received the digital version from NetGalley and the publisher for review.