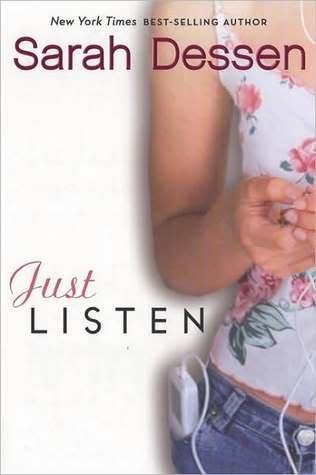 Title:
Just Listen
Author:
Sarah Dessen
Genre:
Young Adult Contemporary
Release Date: April 2006
Publisher: Viking Juvenile
Format: Hardcover
Pages: 383
Links:
Goodreads
|
Amazon
|
Bookdepository
Read from December 17th - 18th, 2011
My rating:

Summary: Last year, Annabel was "the girl who has everything"—at least that's the part she played in the television commercial for Kopf's Department Store.This year, she's the girl who has nothing: no best friend because mean-but-exciting Sophie dropped her, no peace at home since her older sister became anorexic, and no one to sit with at lunch. Until she meets Owen Armstrong. Tall, dark, and music-obsessed, Owen is a reformed bad boy with a commitment to truth-telling. With Owen's help, maybe Annabel can face what happened the night she and Sophie stopped being friends.
Just Listen is the second Sarah Dessen book that I have read in my rather short reading life. I was blown away by the first, Dreamland, and I have to say I like Just Listen just as much. I found this gem in the library, and now want to own a copy of it. I went through all the 383 pages in 24 hours, and 3 sittings, and that says a lot for a slow, impatient reader like me.
This story is basically about a high school girl named Annabel Greene. Annabel is a model, and from the outside looking in, she looks perfect, so people usually jump to conclusions that her life is perfect. But yes, looks can be deceiving. Annabel is scarred. She has a story she would never tell, and by keeping it in, she decides to hurt herself, rather than let it hurt the people she cares about. She has lost two best friends, Clarke, by ditching her just one night for the girl who later became her new best friend, Sophie. Apparently, Sophie wasn't a very good friend, but Annabel stuck with her because she thought tolerating Sophie was worth this entirely new fabulous world she was now a part of, the word she would otherwise never come across had she still been best friends with Clarke. And then their friendship ended one night, I'm not going to say what happened because that's the biggest mystery of the book. Sophie jumped to conclusions and then their friendship was over. Afterwards Annabel is still haunted by what happened that night, and her life changed. She has no best friend now, no one. Until that day Owen reaches out his hand and saves her.
I love the complexity of Annabel's life. There isn't just what's going on with her life at school, but also her life at home. All the falling out and conflicts, the sisterhood and family. They make this book seem so real. Most characters have voices of their own, and they're very believable. I had vivid pictures in my head as I read. As the pages went on and on, I came across a lot of things: modeling, music, eating disorder, family, friendship, loss, sadness, anger, secrets, therapies, etc. I personally understand Annabel. She's not good at confrontation, so she doesn't confront at all. She keeps all these things inside, she never talks about it, so when she tries to, she can't exactly say it. I also love the concept of the glass house. People look at it and think they see everything, but they don't. They see a family sitting together at a dinner table and think they're a happy family, but they aren't. Everything looks too perfect to be understood as something else.
I love Sarah Dessen's writing. I do. She's excellent. She has that power with words that always keeps me reading even if it's 3 am in the morning. She did that to me with Dreamland, and now also Just Listen. I would read a hundred pages on end and found it hard to put the book down. Dessen's descriptions are outstanding. She's great at describing feelings, her words are perfectly strung together. Her writing flows on and on, making it hard to stop at one point, and not read the whole book in one sitting without moving. There are some pages that set butterflies loose in my stomach, there are pages that made me cry. And you know how I feel about books that make me cry.
Without any doubt, this one is another excellent Dessen book. Looking forward to reading more of her work! She might as well just be one of my favorites now. :-)
------------------------
This review is also posted on
Goodreads
.