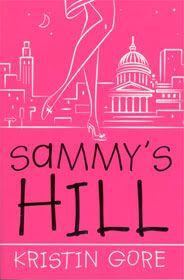 Title:
Sammy's Hill
Author:
Kristen Gore
Genre:
Chicklit
Release Date: 2004
Publisher: Random
Format: Paperback
Pages: 387
Links:
Goodreads
|
Amazon
|
Bookdepository
Read from November 4 to 9, 2011
My rating:

Summary

: Samantha Joyce, Gore's heroine, is a 26-year-old self-deprecating health-care policy advisor to Robert Gary, a well-respected senator from her home state of Ohio. Between endless work days, a grueling campaign schedule, and frequent trips to the pet store where she seeks advice on caring for her listless Japanese fighting fish, Sammy finds time to obsess over her new boyfriend, sexy speechwriter Aaron Driver. As things heat up with Aaron, Sammy's work schedule takes on a new intensity when Gary becomes the Democratic candidate for vice president. Along the way, scandal clouds both her personal and professional life, and our heroine discovers the often salacious underbelly of life on the hill.
Oh myy! I just completed my 2011 reading goal with this book! *throws confetti*
I've had this book for almost a year now and never really wanted to read it, until one day, my main bookshelf became sadly clustered and full, so this had to be taken out. Feeling slightly guilty for it to be homeless, I decided to finally go through with it.
I have mixed feelings about this book, there are some things that I really like about it and some that turn me off. Well, first of all, Sammy is kind of funny, as expected to be in chicklit. She's a health care adviser (if my memory's correct) to Senator Robert Gary (called RG in the book). She's obsessive and ambitious and sometimes reminds me of myself (crying over the death of fish, obsessive thinking, etc.). I find her character to be believable, though I'm not sure if I like her all that much. Secondly, I think this book is too full of political stuff to really be fully identified as chicklit. I found that there are more of professional than personal stuff in it. And yes, it sometimes bored me. Kristin Gore, the author, really knows so much about politics, I assume, but then again I could be wrong, because I'm not really a native and don't know much about America's political system. I like to think I've learned some knowledge on politics just by reading it. Lastly, the getting together with
Charlie Lawton
(hover to see spoiler)
doesn't look very believable to me. It's too easy, after all that's been happening between them and Sammy's many guys. But I can't deny that I like them being together.
There are a couple of things that I specially I like about this book. I like how RG and Sammy seem the care so much about the public good, whereas other politicians view politics as a means to do something for their own goods, rather than for the people. Politicians like that are everywhere, and that's why it's nice to read about the good ones, even though they're fictional. It kind of restores faith in me that maybe there really are the good ones out there waiting to show themselves and make some great impacts. And also, the last page of the book, how it ends, is hilarious. Hahahahhahaha. RG FTW! All in all,
Sammy's Hill
is an enjoyable read.
------------------------
This review is also posted on
Goodreads
.