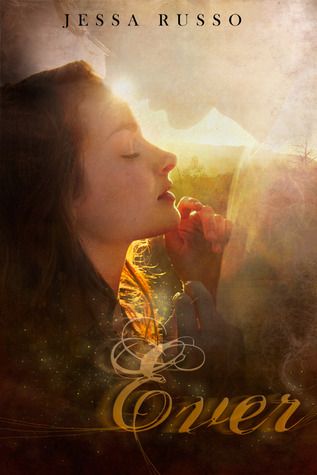 Title:
Ever
Series: Ever, #1
Author:
Jessa Russo
Genre:
Young Adult Paranormal
Release Date: October 1, 2012
Publisher: Curiosity Quills Press
Pages: 295
Format: eBook
Source: Publisher via NetGalley
Links:
Goodreads
|
Amazon
|
Bookdepository
Read from September 28 to October 1, 2012
My rating:

Summary

: Seventeen-year-old Ever's love life has been on hold for the past two years. She's secretly in love with her best friend Frankie, and he's completely oblivious. Of course, it doesn't help that he's dead, and waking up to his ghost every day has made moving on nearly impossible. Frustrated and desperate for something real, Ever finds herself falling for her hot new neighbor Toby. His relaxed confidence is irresistible, and not just Ever knows it. But falling for Toby comes with a price that throws Ever's life into a whirlwind of chaos and drama. More than hearts are on the line, and more than Ever will suffer.
Some girls lose their hearts to love.
Some girls lose their minds.
Ever Van Ruysdael could lose her soul.
Seven-hundred and thirty days since the only guy I've ever loved died in my arms, followed me home from the hospital, and never left my house again.
Prior to the beginning of the book, Ever and her best friend and crush Frankie has got into a car accident that ended up killing Frankie but not her. Ever came home that night with Frankie's ghost, and his ghost has been around in her house ever since. Frankie's ghost is not only visible to Ever, but also to her father, mother, and best friend Jessie--they all can interact with him. Ever is still pretty much in love with Frankie until a new family moves into Frankie's old house. When she meets Toby, things start to change.
Now, the book blurb sounds really appealing, don't you think? I read the blurb and was interested, because it sounds dark and dramatic. But the book itself doesn't quite measure up. It's not that I'm disappointed, because disappointment would suggest that I have an expectation that isn't met. I didn't have any expectation. I finished this book annoyed and irritated. I didn't like this at all and couldn't see anything good in it, to say the least.
I hated that the pages are filled with nothing going on. Dates, make-out sessions, lying, blushing, sneaking, etc. All these don't quite contribute to anything! Not even the plot! I didn't even like any of the characters. Ever seems to me a very annoying person. The fact that her father's death doesn't bother her enough to talk about it or be sad about it bothers me to no end. After his death, she cries a bit and goes right back to being obsessed with boys. Are you kidding me? The best friend Jessie is a flat character whose only function is as Ever's personal cheerleader. And Toby, oh Toby, can you be any more cheesy? Sent on a job and falls in love with that job. Jeez.
In the end, I don't even know what this book is really about. Ghosts? No, not really, since the only ghost we see in the story is Frankie, and not that much attention is paid to him. Which leads to another disturbing question: why is he there at all? I mean, what's the significance? What's the point? You know, the whole ghost thing never fits seamlessly into the story. It always made me feel like it's out-of-nowhere and awkward. The whole book reads like a contemporary book, but then the ghost shows up and goes all "What's wrong, Doll?" or "dollface" or whatever, and then it's just weird. The ghost thing is displaced and everything else is very poorly done.
The most frustrating part of this book is when, near the end, something else ENTIRELY is introduced into the story that changed the book's direction. There has been no foreshadowing or anything, so this thing coming into play is just very forced and contrived. Like the idea just occurred to the author and she thought it would be fun to put it in the book, and then she did, and never went back to edit the whole book to make room or drop hints for this thing. You know what I mean? It's just bad. So throughout the course of book, the story kept changing genre directions, and it's more than annoying. Contemporary? Paranormal? Fantasy? WHAT? And then before I could answer, it abruptly ended, which totally caught me off guard. Excuse me? Is this supposed to make me feel like I'm hanging off a cliff and dying to read the next book or something? If so, I'm sorry to say that it unfortunately backfires.
Although this book sounded like something I might enjoy, it was the opposite. There's nothing about it that I enjoyed. The writing is mediocre; the plot is... wait, what is the plot?; the characters are weak and flat. I'm not glad I read it. If anything, I'm glad I got it over with and wish to have nothing to do with it ever ever ever again. Take that,
Ever
.
------------------------
This review is also posted on Goodreads.
I received a digital copy of this book from NetGalley and the publisher for review.