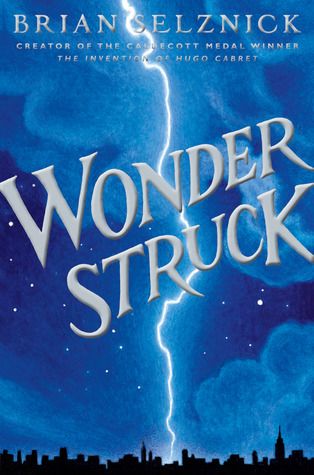 Title:
Wonderstruck
Author:
Brian Selznick
Genre:
Children, Picture Books
Release Date: September 13, 2011
Publisher: Scholastic
Pages: 640
Format: Hardcover
Links:
Goodreads
|
Amazon
|
Bookdepository
Read from February 10 and 15, 2012
My rating:

Summary

: Ben and Rose secretly wish their lives were different. Ben longs for the father he has never known. Rose dreams of a mysterious actress whose life she chronicles in a scrapbook. When Ben discovers a puzzling clue in his mother's room and Rose reads an enticing headline in the newspaper, both children set out alone on desperate quests to find what they are missing. Set fifty years apart, these two independent stories--Ben's told in words, Rose's in pictures--weave back and forth with mesmerizing symmetry. How they unfold and ultimately intertwine will surprise you, challenge you, and leave you breathless with wonder.
Whew! Selznick did it again!
I didn't know what to expect when I started it, for which I'm glad. For that reason, the book continued to be mysterious and interesting for me all the way until the big secret is revealed and the story unfolds. Thrilling, it really was!
Wonderstruck is two stories in one. They're set fifty years apart. One about a girl, one about a boy. Unlike The Invention of Hugo Cabret, whose illustrations and text support each other and tell one single story about Hugo, Wonderstruck's illustrations tell the story of Rose's, while the words the story of Ben's, separately at first, until they come together wonderfully at one point in the book.
These two stories are by all means exceptional. I really like them. More details and things in the past are revealed as the stories go on. And again, like with Hugo, those things can take your breath away. I can't help but notice that Selznick really has a thing for creating sad, parent-less, looking-for-something children as main characters. Not that we can really complain about it, can we? He really knows how to deal with them and make the stories work!

If there's one thing I enjoy more than the writing, it's the illustrations. Guys, THEY ARE GORGEOUS. No kidding. He's successfully won the "my favorite illustrator" place in my heart with Hugo, and now he's reminding me that he's still got it. BRAVO! Every line enriches the feeling the pictures give. I can't quite put my fingers on it. The sadness in Rose's eyes show. The emptiness she feels. The anger in her father's face. The hope in Ben's eyes. The fierceness in the wolves. Wonderful. Delightful. Magnificent. AMAZING.
However, despite all the positive comments, I have to be honest with you and say that I didn't love it as much as
The Invention of Hugo Cabret
. I mean, I like that the stories switch back and forth and always left me breathless, eager for more. The illustrations are breathtaking, as always, with painstaking details. But I don't really feel the characters most of the time, and they don't stay with me. And I also feel like there are some unnecessary elements in the story that could have been left out without causing any damage. I
don't love
it, I just
really like
it. Therefore 4 stars. Or maybe 4.5. Or 4.75. But not 5, sorry.
Maybe next time. It might even end up on my favorite shelf. But not now.
Wonderstruck
is on my wishlist. :-)
------------------------
This review is also posted on
Goodreads
.