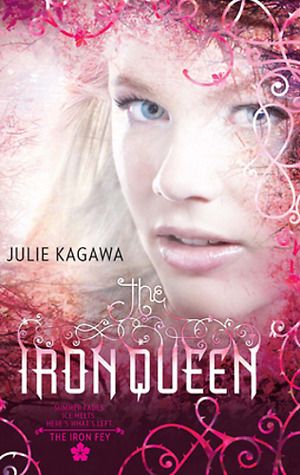 Title:
The Iron Queen
Author:
Julie Kagawa
Series: The Iron Fey #3
Genre:
Young Adult Fantasy
Release Date: January 25, 2011
Publisher: Harlequin Teen
Format: Paperback
Pages: 358
Links:
Goodreads
|
Amazon
|
Bookdepository
Read from October 30 to November 3, 2012
My rating:

Summary

: My name is Meghan Chase. I thought it was over. That my time with the fey, the impossible choices I had to make, the sacrifices of those I loved, was behind me. But a storm is approaching, an army of Iron fey that will drag me back, kicking and screaming. Drag me away from the banished prince who's sworn to stand by my side. Drag me into the core of conflict so powerful, I'm not sure anyone can survive it. This time, there will be no turning back.
You've become a major player in this war. You're balanced on the edge of everything—faery and mortal, Summer and Iron, the old ways and the march of progress. Which way will you fall? Which side will you choose?
When I read
The Iron King
and
The Iron Daughter
, I felt they had a great potential but weren't quite there yet, so they both got four stars from me. I didn't expect the third installment,
The Iron Queen
, to surpass the previous two, and that's why I was so blown away by how
truly amazing
this one is, which I didn't see coming at all. This book is much better than the first two and that made me believe that this is Julie Kagawa at her best.
The story picks up instantly where book two leaves off: Meghan and Ash's exile from the Nevernever. Meghan thinks that she won't be bothered by the fairies anymore, but she's dead wrong. Iron fairies are still roaming the mortal world looking for her, because the false king believes that by killing Meghan, he'll get King Machina's power. At the same time, the false king's army has been getting stronger and attacking Summer and Winter. And Meghan might just be Nevernever's only hope to defeat the false king and restore peace.
The first half starts off pretty slowly and maintains its pace throughout, which made me a little impatient. But when the second half starts, things pick up fast and remain fast until the end, which I loved. I read the second half all in one sitting, and I really couldn't tear my eyes away. Julie Kagawa gives me excitements after excitements after romances after heartaches after sadness after excitements. I said in my reviews of the
previous
two
books that the fight scenes for me felt somehow lacking. However, in this book, Julie Kagawa gave me everything and then more. It was breathtakingly fun! Fun fun fun! Best fight scenes in the series are in
The Iron Queen
. Epic battles. I loved it. With everything thrown my way, it was indeed difficult to stop. I swallowed it whole, I took everything in all at once. It was delightful.
The characters are more developed in this book, fully formed. I liked Meghan more now, seeing her grow from a feeble helpless half-breed to a strong warrior deserving to be Queen. And although I couldn't make up my mind earlier, I'm now Team Ash. That boy does crazy things to my stomach, let me tell you. He's so cute, like, he makes me bury my head in my pillow and squee endlessly, come up for air and then bookmark those lovely scenes. And hot scenes, because, well, they're so hot. But my being on Team Ash doesn't mean that I don't like Puck now. I still do, but less than Ash. Poor Puck, getting his heart ripped out and stomped on. He'll continue to make my heart ache, I'm sure. Grimalkin still amuses me endlessly with his wits and sarcasm. Bad kitty, as Razor says. Razor is so cute.
And if anything is to be said about Julie Kagawa's writing, I'd repeat it: this is Julie Kagawa at her best. I don't know how she does it, but she pulls it off beautifully. Her words make the story flow very smoothly and reinforces the story very well, making us see things more clearly and feel things more intimately. So charming.
Apart from all the fun it gave me, this book made me shed a lot of tears (oh, Ash). And I loved every minute of the journey I traveled with Meghan. I hope it's only getting better from here, as I am now ready to take on the next books.
------------------------
This review is also posted on
Goodreads
.