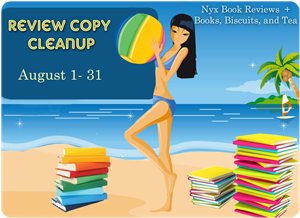 This challenge is hosted by Books, Biscuits, and Tea and Nyx Book Reviews. Head over here if you want to join. Sign-up is open until August 15!
So, after
last week's post
I have made a little progress. During the week I wrote two reviews for the ARCs I'd finished, and then I finished three more ARCs, and wrote two reviews for them. The other one is on its way. :D
I consider this a pretty good progress, considering how much of a slow reader I am.

ARCs finished so far in August:
1.
Glitch
by Heather Anastasiu
3. Let's Hear it for Almigal by Wendy Kupfer
I plan to finish these books in August:
2.
Reflection
by Jessica Roberts (not ARC but for book tour)
And if I finish the three books above early, I won't start with September ARC's yet. I'll take a month off reviewing. Since September is my finals month, I need to finish these:
1.
Er hieß Jan
by Irina Korschunow (for German class)
2.
The Land of Decoration
by Grace McCleen (for Eng Reading class)
3.
The Handmaid's Tale
by Margaret Atwood (for Eng Lit class, will be a reread)
4.
Life & Times of Michael K
by J.M. Coetzee (for Intro Lit report)
Busy time is approaching ever so quickly now. I need to get things done as soon as possible so I'll have time to study for finals. I'm also currently being bombarded with tests and assignments. Boo. Speaking of which, tomorrow I'll have a Lit test on The German Refugee by Bernard Malamud. I've read it two times already. I need one more close-reading to be sure. Wish me luck! :)