I've thought about writing posts that aren't necessarily book reviews or promo posts but are still book-related. Like my shelf makeover ceremonies that take place every two weeks or so. If I had started right away when the idea came to me, I would've published 20 posts. But I've been too lazy to snap photos, and the mess during the tidying and re-arranging is always too much fun to excuse myself from.
Anyway, now I have a perfect opportunity to start book babbling. Today I came home and found that a mail was delivered to me! And I found that it's from Liz Fichera! I was so excited! Because this would mean...
HOOKED BOOK SWAG!
Woo! These are so cute! And so very bright! Look at the hot pink! Even my mom loves them. Hahaha.
Now, the photo above doesn't let you see the wristband in its full glory. I hope this one is better.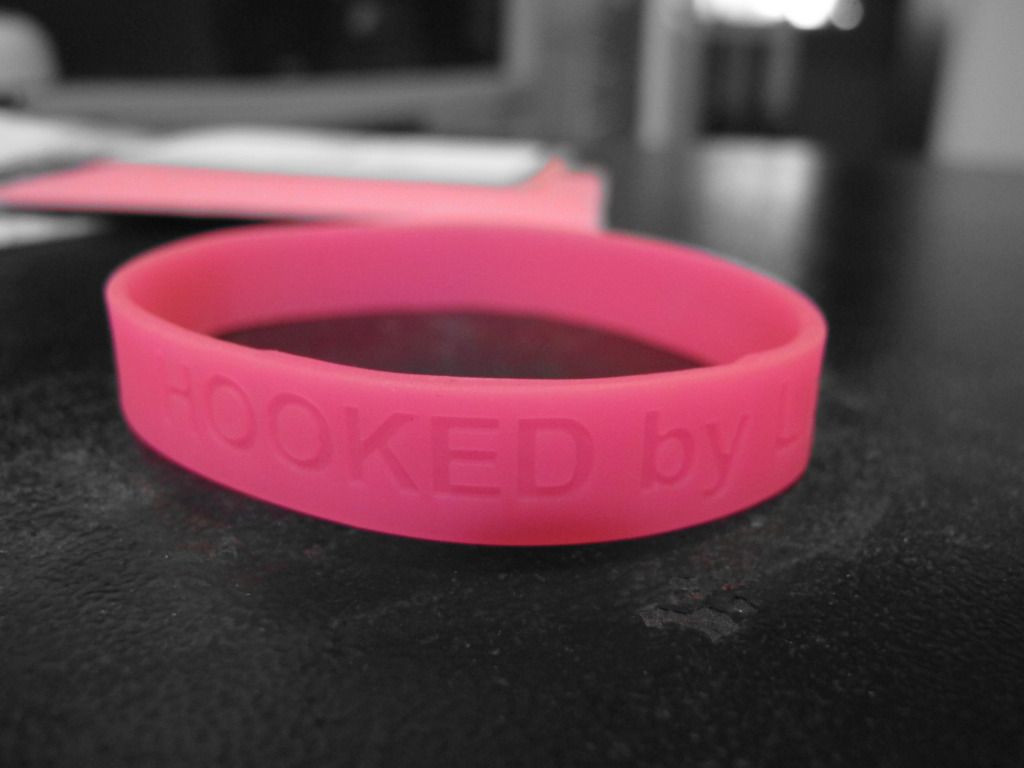 Yay! Hot pink ftw! My Kindle cover is the same color. ;) Thank you so much, Liz! Your card is lovely, and so is everything else in the mail. It took 8 days to reach me. :) I cannot wait to read HOOKED!
Title:
Hooked
Author:
Liz Fichera
Genre:
Young Adult Contemporary
Release Date: January 31, 2013
Publisher: Harlequin Teen
Blurb: Get hooked on a girl named Fred...
HE said:

Fred Oday is a girl? Why is a girl taking my best friends spot on the boy's varsity golf team?


SHE said:

Can I seriously do this? Can I join the boys' team? Everyone will hate me - especially Ryan Berenger.


HE said:

Coach expects me to partner with Fred on the green? That is crazy bad. Fred's got to go - especially now that I can't get her out of my head. So not happening.


SHE said:

Ryan can be nice, when he's not being a jerk. Like the time he carried my golf bag. But the girl from the rez and the spoiled rich boy from the suburbs? So not happening.


But there's no denying that things are happening as the girl with the killer swing takes on the boy with the killer smile...
AND NOW FOR THE ANNOUNCEMENT:
In addition to not having been regularly updating the blog since the beginning of September, I'm going to take a hiatus until the end of the month. Two words: FINAL EXAMS.
See you soon!