Hi guys! I haven't updated in a while. That's due to my current loads of work and exams. I'm just dropping by today with this promo post for Shannon Dittemore's
Broken Wings
! I've been waiting for this book for quite some time, because I really liked the first book,
Angel Eyes
! Initially, I intended to review it for this
book tour
, but as it turned out I couldn't juggle work and reading at the same time (I haven't been reading in a while). So here I am with a promo post instead.
Broken Wings: Character Spotlight
Character: Marco
First & last: Marco James
Age: 25
Hometown: Portland, Oregon
Favorite Possession: Ali's journal
~ A bit of truth ~
Marco is an actor and filmmaker who was dating Brielle's best friend, Ali, when she was killed. He was arrested for her murder and later cleared of the charges.
Likes
- Theatre. He's particularly fond of Hamlet, a play he was working on while dating Ali.
- Independent films
- Coffee houses
- An audience. In particular, he finds Kaylee's aunt Delia to be a remarkable one-woman audience.
Dislikes
- Henry Madison, a pedophilic old man involved in the trafficking ring that took Ali's life. The monster haunts Marco's dreams.
- Any activity that requires him to wear shorts.
- Himself, half the time. The role he played in Ali's death hangs over him.
- The holes in his memory. He can't remember half of what happened at the warehouse last December
The Books
Angel Eyes (Angel Eyes Trilogy #1)
by Shannon Dittemore
Release Date: May 29, 2012
Paperback/e-book
336 pages
Summary from Goodreads:
Once you've seen, you can't unsee. Everything changes when you've looked at the world through . . .ANGEL EYES.
Brielle's a ballerina who went to the city to chase her dreams and found tragedy instead. She's come home to shabby little Stratus, Oregon, to live with her grief and her guilt . . . and the incredible, numbing cold she can't seem to shake.
Jake's the new guy at school. The boy next door with burning hands and an unbelievable gift that targets him for corruption.

Something more than fate has brought them together. An evil bigger than both of them lurks in the shadows nearby, hiding in plain sight. Two angels stand guard, unsure what's going to happen. And a beauty brighter than Jake or Brielle has ever seen is calling them to join the battle in a realm where all human choices start.

A realm that only angels and demons—and Brielle—can perceive.
Broken Wings (Angel Eyes Trilogy #2)
By Shannon Dittemore
Release Date: February 19, 2013
Paperback/e-book
320 pages
Goodreads / Amazon / Barnes & Noble
Summary from Goodreads:
Giant angels with metal wings and visible song. A blind demon restored from the pit of darkness. And a girl who has never felt more broken.
Brielle sees the world as it really is: a place where the Celestial exists side by side with human reality. But in the aftermath of a supernatural showdown, her life begins to crumble. Her boyfriend, Jake, is keeping something from her—something important. Her overprotective father has started drinking again. He's dating a much younger woman who makes Brielle's skin crawl, and he's downright hostile toward Jake. Haunting nightmares keep Brielle from sleeping, and flashes of Celestial vision keep her off kilter.
What she doesn't know is that she's been targeted. The Prince of Darkness himself has heard of the boy with healing in his hands and of the girl who sees through the Terrestrial Veil. When he plucks the blind demon, Damien, from the fiery chasm and sends him back to Earth with new eyes, the stage is set for a cataclysmic battle of good versus evil.
Then Brielle unearths the truth about her mother's death and she must question everything she ever thought was true.
Brielle has no choice. She knows evil forces are converging and will soon rain their terror down upon the town of Stratus. She must master the weapons she's been given. She must fight.
But can she fly with broken wings?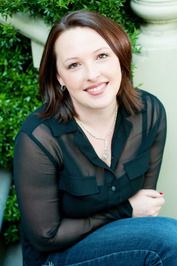 About the Author
Shannon Dittemore has an overactive imagination and a passion for truth. Her lifelong journey to combine the two is responsible for a stint at Portland Bible College, performances with local theater companies, and a focus on youth and young adult ministry. The daughter of one preacher and the wife of another, she spends her days imagining things unseen and chasing her two children around their home in Northern California. Angel Eyes is her first novel.
Website
/
Twitter
/
Goodreads
/
Facebook
/
Pinterest
GIVEAWAY!
a Rafflecopter giveaway